Alistair Brownlee wins on Ironman 70.3 debut at North American Championships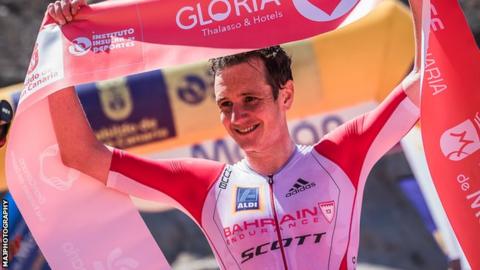 Double Olympic champion Alistair Brownlee won on his debut in the Ironman 70.3 series at the North American Championships in Utah.
Brownlee claimed his first victory over the 70.3-mile distance at Challenge Gran Canaria last month, but was facing a much stronger field in St George.
Victory gives him a spot at September's Ironman 70.3 World Championship.
Great Britain's reigning Ironman 70.3 world champion Holly Lawrence led from the start as she won the women's race.
Fellow Briton Rachel Joyce finished fourth in her second race back, following the birth of her son.
Brownlee said he "saw this as a start of a learning curve towards the World Championship".
"I definitely got something from today, like my nutrition. I couldn't get enough in my stomach and I felt like I didn't have enough salts and fluid in me at the end of the run, which is why I had to back off a bit," he added.
"But that's the good thing about it for me. I spent a decade doing the Olympics, so it's really nice to have a different challenge."
The World Championships take place in Chattanooga, Tennessee, on 9 and 10 September.
Ironman events are a brand owned and run by the World Triathlon Corporation.
The Ironman 70.3 event, named after the total number of miles it covers, involves swimming 1.9km, cycling 90km and running a half-marathon (13.1 miles or 21.09km) - half the regular Ironman distance.
The Olympic triathlon - which Brownlee won in 2012 and 2016 - involves a 1.5km swim, a 40km cycle and 10km run.