Rio Paralympics 2016: Lauren Steadman aims for Para-triathlon gold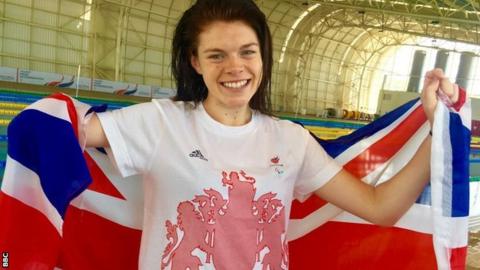 British Para-triathlete Lauren Steadman says she can handle the pressure of being a gold medal favourite in Rio at her third Paralympics.
The 23-year-old finished outside the medals as a swimmer at Beijing 2008 and London 2012, but is undefeated for more than two years after switching sports.
She will aim to follow Andy Lewis, who won the men's PT2 event on Saturday.
"There is pressure, but I'm a stronger, more experienced athlete now," she told BBC Sport before Sunday's competition.
Steadman was born without a right forearm and will compete in PT4 Para-triathlon category in the sport's maiden Paralympic Games.
Since switching sports in 2013, she won the world titles in 2014 and 2015, before surrendering her crown after a heavy crash during the cycling phase of this year's event in Rotterdam.
She has not competed internationally since that accident in July, but says it will not have an impact on the race around Rio's Copacabana venue.
"I'm feeling very strong at the moment. I've not had any injuries and luckily I'm all back to normal after my bike crash," she said.
"It was a very technical course, with 130 more turns than we'll have in Rio and I was just coming into one of the corners when I went over a cobble so hard that my prosthesis was knocked off the handlebars with such force I came off.
"I had no way to turn the corner and break, so I just went into the barrier."
Head coach Jonathan Riall believes Steadman has finally 'found her sport' after two Paralympic cycles as a swimmer.
"I don't expect her to be overawed, but she is in a position she's never been in before - as one of the favoured athletes," he told BBC Sport.
"It would be really easy for the pressure and hype to take over, so we're working with her really closely to make sure she stays calm and so long as she does that she'll be ready for a fantastic race."
Having already claimed European and world titles, gold in Rio would complete a career 'grand slam' of honours.
"It would be the icing on the cake, because I've have all the other titles," she said.
"If you look at my Paralympic career - Beijing I didn't make finals, London I made finals, so to get on the podium this time and bring home the gold it would feel like a complete circle.
Steadman will be joined in the PT4 category by former world champion Faye McClelland, 36, and 39-year-old fellow Briton Clare Cunningham - whose last Paralympic Games was Atlanta 1996.