Aileen Reid finishes fourth in London World Series round
Last updated on .From the section Triathlon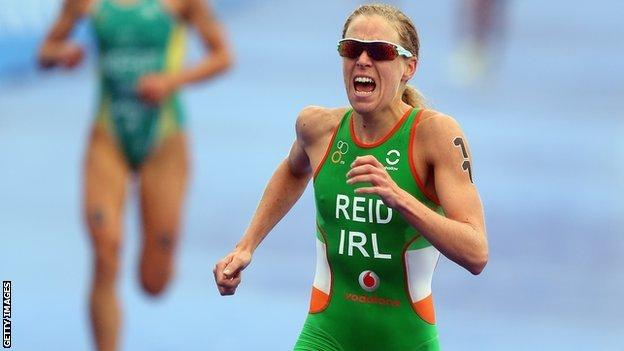 Derry woman Aileen Reid produced her best performance of this year's World Triathlon Series as she finished an impressive fourth in London on Sunday.
In the London sprint race, which was half of the Olympic distance, Reid was 17th out of the water and a solid bike ride was followed by a superb run.
"I'm really pleased it's finally coming together for me," said Reid
Gwen Jorgensen took her 10th World Series win in a row ahead of other US hopefuls Katie Zaferes and Sarah True.
The American, who is current world champion, moved clear shortly into the run and went on to win in 55 minutes and 45 seconds.
It was Reid's highest finish since placing fifth in last season's World Series Grand Final in Edmonton.
The Derry triathlete's best ever result came in London in the 2013 World Series Grand Final when she took the silver medal.
Sunday's result sees Reid move up to sixth place in this season's overall World Series standings but she will next concentrate on the European Games triathlon in Baku on 13 June.
"It's half the distance but it's twice as hard," said the Londonderry woman.
"Unfortunately I missed that front pack after the swim but I had a really great run, I didn't think I was going to run that fast," said Reid.
"I really feel like I want to be in the top ten in the world and these last three performances are what I've really been pushing for."
The Londonderry triathlete could only manage 24th and 15th spots in the opening two World Series events in Abu Dhabi and Auckland but then finished seventh and sixth in Australia and Japan.