Isle of Man TT triathlon to return in 2014
Last updated on .From the section Triathlon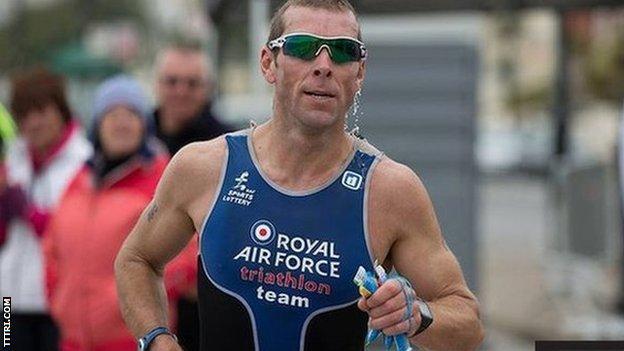 The Isle of Man TT triathlon will return for a second year in 2014, organisers have confirmed.
The event sees athletes run and cycle around the 37.75-mile TT course and this year a middle-distance course will be added to the race programme.
Last year Manx triathlete Darren Sharpe won the first ever Isle of Man TT triathlon, which included cycling tree laps of the famous Mountain Course.
Representing the RAF, he completed the challenge in 10 hours 16 minutes.
Race Director Richard Wallace said: "Last year was a true battle for the competitors.
"Not only did they face a challenging course, but the conditions on the day made this truly an epic race.
"This is one of the true iconic racing locations and we are pleased to be able to offer athletes the chance to challenge themselves against not only the course, but the island as well.
"Last year our Pioneers came to race and showed just what this course is all about. We hope to welcome many more athletes this year and remind them why they love this sport so much."
Next year's event, which is also available to teams, will be held on the 29 June.
Courses
Short: 1.2mile swim, 37.7mile bike and 7mile run
Middle: 1.2mile swim, 75mile bike and 16mile run
Long: 2.4mile swim, 114 mile bike and 26.2mile run