Aileen Morrison finishes second in European Cup event
Last updated on .From the section Triathlon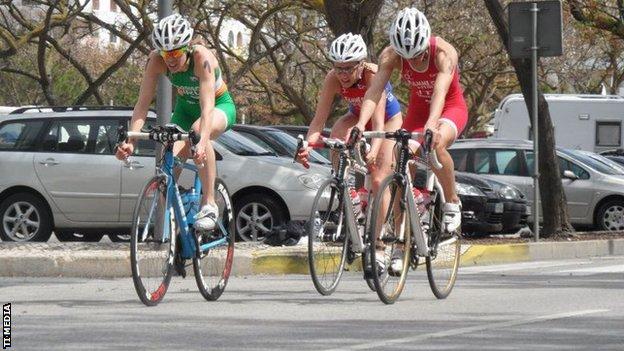 Derry triathlete Aileen Morrison finished an impressive second in the opening European Cup meeting of the season in Portugal on Saturday.
Morrison was 11th after the 1500m swim but a solid bike ride and superb transition and run enabled her to clinch a podium place in Quarteira.
The Ireland number one has already qualified for the London Olympics.
Spain's Ainhoa Murua finished 27 seconds ahead of Morrison with France's Carole Peon in third.
Morrison exited the 1500m swim in 11th position just 24 seconds down on the leaders.
"I got really beaten up in the swim and a few girls just caught a wave into shore ahead of me," Morrison said.
The deficit from the swim made the chase extremely difficult for Ireland's top triathlete.
The lead group of five made their slim advantage stick and worked well to grow it over the 40km bike leg.
Morrison worked hard on the front of a three-woman chase pack to limit the damage and they were eventually joined by a further 20 athletes from a third chasing pack.
Entering transition two they were almost a minute down on the five ahead and a podium finish looked almost impossible.
However, a slick 30-second transition from bike to run, the fastest of the day, meant the Derry native led the charge out of transition.
Triathlon Ireland Assistant Coach Elena Maslova was impressed with Morrison's run.
"When Aileen exited T2 you knew she only had one thing on her mind. She covered the first few kilometres incredibly fast and moved from seventh up to third by the 2.5km mark," said the Irish assistant coach.
Morrison continued her charge picking off Peon of France in the process to snatch second place.