Meet the Brownlees
Last updated on .From the section Triathlon
British brothers Alistair and Jonny Brownlee, two of the world's top triathletes, can take a big step closer to the Olympics at this Sunday's Hyde Park Triathlon in London.
Finishing on the podium will be enough for either of them to meet British Triathlon's selection criteria for the Games.
Alistair, 23, won the world title in 2009 and is widely tipped to win gold over the same Hyde Park course at London 2012. But Jonny, 21, is hot on his heels and rapidly improving.
The pair recently finished first and second at the European Championships, held in the Spanish home town of their closest rival, reigning world champion Javier Gomez.
Here, the brothers reveal all about life competing alongside each other - with some help from Gomez.
INTRODUCE EACH OTHER
Jonny: This is Alistair Brownlee, the current European champion, the grand final winner in Budapest in 2010, and the European champion in 2010 as well. And he's most famous for being Jonathan Brownlee's brother. (Not really).
Alistair: And this is Jonathan Brownlee, current European [awkward pause] second-placer. Previous European junior champion and U23 World champion, and up-and-coming Olympic hopeful. He's also my brother and he does a bit of history studying every so often. Outside of that, he's a semi-professional triathlete and a semi-professional Football Manager player.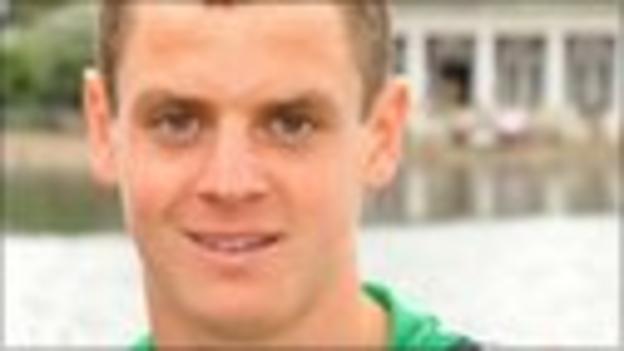 Jonny: I'm a Leeds United fan, so every time I play the game I start off with Leeds. But they're a hard team. I have great intentions of getting them to the Premier League and Champions League and bringing back all the best players - but I started the other day and the transfer budget was about £100,000. That's hard! So I started with Aston Villa last week. They had a bit more money to spend and it's a bit more exciting. I buy all the Leeds players.
As for Alistair, outside triathlon he says he's doing a finance masters at Leeds Met but I've only seen him go to about two lectures. He likes sleeping in his altitude tent at home. He goes to bed, turns it on, and all night I get this annoying humming noise. He tells me he sleeps at 2,500m or something.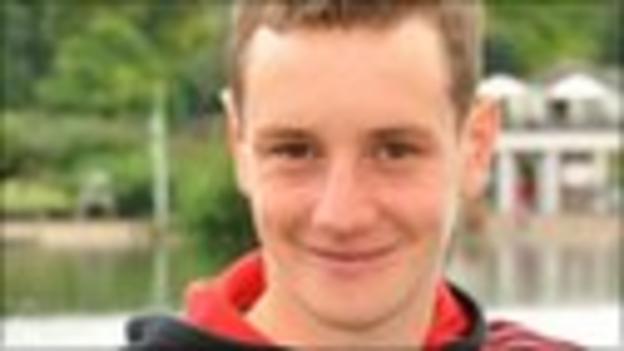 Alistair: It's actually 3,500m and he can't hear the generator, he just likes it as an excuse. It's a big, plastic tent in a loaf-of-bread kind of shape and a generator pumps air into the tent which replaces oxygen with nitrogen, so at 3,500m it's 12% oxygen instead of 21% at sea level.
The idea is that it stimulates your body to produce more red blood cells so it's better at carrying blood. It doesn't cost anything so you might as well.
Jonny: I quite fancy an altitude tent for myself, I've just never got on and got one. Maybe it makes your sleep worse though, I'm not sure. Maybe next year I'll try his for a bit and then buy my own.
WHO STARTED TRIATHLON FIRST?
Alistair: It was definitely me. I think I started everything we did.
Jonny: He always says I copy him.
Alistair: Our parents were into swimming and running, and we did everything as kids - football, cricket … but I begged my dad to take me to a triathlon and, the year after, Jonny started it.
Jonny: I was swimming when I was five or so and joined in Alistair's group so I was always swimming with much older people. A lot of my life has been doing the younger brother thing, following around Alistair. But I was better than him at football.
HOW DO YOU FIND LIVING TOGETHER IN YORKSHIRE?
Jonny: We've been living together [in Alistair's house] for a year and a half and I quite enjoy it. It makes things way easier, living together.
Sometimes I get sick of the sight of him, normally if I'm tired and in a bad mood when I'm back from a training session. Maybe he's dirtied the shower or hasn't cleaned some pots or something. Normally we're fine but there's the occasional time when we're tired.
Alistair: He likes to think he's in charge of the house. And if he's in charge of the cleaning, so be it.
WHAT'S IT LIKE RACING TOGETHER?
Alistair: It's intense, a lot of the time. We live together, train together, go out together. We see each other a lot and we've learnt to deal with each other a bit better. This year it's hit home more than ever, the effect and importance of that and why we are where we are. That goes a long way to help us get on.
Jonny: During a race I can trust Alistair, which is really important. He's more experienced than me so for example, at the Euros when it was really hot, I said: "Alistair, I'm worried about the heat, I've not been good in the heat before." He told me what to do: "Take salt tablets, keep drinking. You'll be fine, you're a year older now and stronger."
Having someone there like that is really important and during races we talk all the time: about tactics, how far the group behind us are, shall we keep on working or sit up, simple tactical talk. And if Alistair needs water we'll share it between each other. We're constantly talking.
IF YOU'RE NECK AND NECK AT THE FINISH OF THE OLYMPIC TRIATHLON WHAT WILL YOU DO?
Jonny: Finishing hand-in-hand would be a dream but it's just one of those things you say. It's like Leeds winning the Champions League, I dream about it but it won't happen.
Alistair: I can't imagine us not racing down the finish to be honest, even if we had the best intentions in the world not to and presuming the million-and-one things went right to get us there in the first place.
It's the Olympic Games and we're two lads who can hardly play Monopoly without throwing the board at each other. Suddenly you're on the biggest sporting stage in the world. I've got a feeling we'd probably race.
Jonny: The Olympics is the Olympics and special things do happen but, if we were going to go hand-in-hand, I'm not sure … I might just dip him at the line.
JAVIER GOMEZ'S VIEW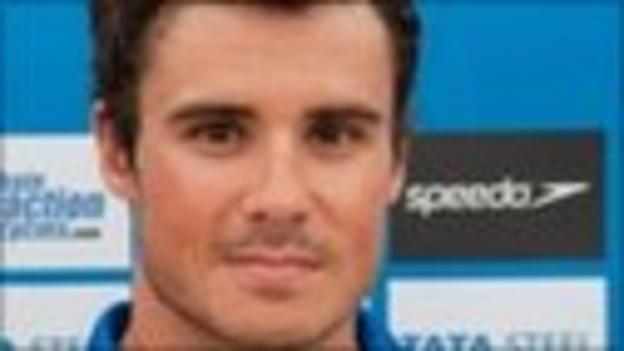 Right now, there's no doubt the Brownlees are my big rivals. They're at a different level to all the others, they go faster than anyone else.
Why are they so good? It's probably genetic, but they also help each other to improve and they work hard for it. They always race at the front, they don't hide themselves away during the race, and I really respect them as athletes and people.
I've beaten them now and then, and I'm sure I can do it again, but it's not easy. The thing is, they're both really strong at everything - always at the front of the swim and the bike - so you have to run faster than them, and that's probably their strongest point as well. There's no easy way to beat them.
They don't get stressed. They train really hard but they're not people who pre-measure everything and have to do this, have to do that. They don't put pressure on themselves and that helps them.
Right now, Alistair is probably a bit better than Jonny, but Jonny's younger and he's already improved from last year to this year. They both have a high chance of a medal or the gold.