Naomi Osaka unsure on Wimbledon after ranking points decision
By Jonathan Jurejko
BBC Sport at Roland Garros
Last updated on .From the section Tennis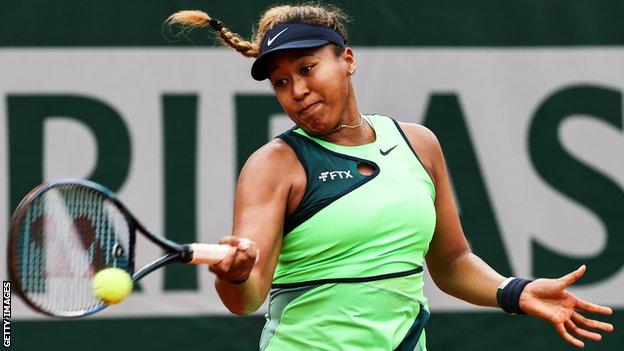 French Open 2022
Dates:
22 May-5 June
Venue:
Roland Garros, Paris
Coverage:
Live text and radio commentaries of selected matches across BBC Radio 5 Live Sports Extra, the BBC Sport website and app
Four-time major winner Naomi Osaka is not sure she will play Wimbledon, saying that without ranking points it is "more like an exhibition".
The ATP and WTA stripped the points after Wimbledon banned Russian and Belarusian players over Russian's invasion of Ukraine.
Osaka did not criticise the move but said earning points was a motivation.
"The intention of this measure was good, but the execution is all over the place," she said.
"I feel like if I play Wimbledon without points, it's more like an exhibition. I know this isn't true, right? But my brain just like feels that way. Whenever I think like something is like an exhibition, I just can't go at it 100%.
"I didn't even make my decision yet, but I'm leaning more towards not playing given the current circumstances."
Former world number one Osaka, 24, was speaking after her first-round defeat by Amanda Anisimova at the French Open on Monday.
The Japanese player is 38th in the world rankings after taking several breaks from the sport last year to protect her mental health.
She missed Wimbledon, where she has never gone beyond the third round, as a result.
"I would say the decision is kind of affecting my mentality going into grass. I'm not 100% sure if I'm going to go there," Osaka said.
"I would love to go just to get some experience on the grass court, but at the same time I'm the type of player that gets motivated by seeing my ranking go up."
Players will receive ranking points from the grass-court events held in the UK in the build-up to Wimbledon, which starts on 27 June.
'I'm OK playing without points' - players express their opinions
Osaka is the highest-profile star to indicate she might not play at the All England Club.
Poland's Iga Swiatek, who has a huge lead at the top of the WTA rankings, said: "For me, it's Wimbledon. It's one of the most important tournaments in the season. I'm OK playing without points.
"But there is war going on. So I look at it more from that way than what's going happen on rankings."
Men's world number one Novak Djokovic also said he "intends" to play at Wimbledon.
"Yes, I intend to go to Wimbledon," the Serb said after beating Japan's Yoshihito Nishioka in his French Open first-round match.
However, he added the tournament's decision to ban Russian and Belarusian players was a "mistake".
"On a personal, individual level, I have been very negatively affected by that," said the 20-time Grand Slam champion, who stands to lose 2,000 ranking points because of the decision.
"Collectively, I'm glad that players got together with the ATP and showed to the Grand Slam that, when there is a mistake happening and there was from the Wimbledon side, then we have to show that there is going to be some consequences.
"I think it (Wimbledon's ban) was a wrong decision, I don't support that at all. But, at these times, it is a sensitive subject and whatever you decide will create a lot of conflict.
"There was never, unfortunately, a strong communication coming from Wimbledon. That's why I think it's wrong."
Belarusian Victoria Azarenka, who will not be playing at Wimbledon because of the ban, said she has been working with the WTA players' council, of which she is a member, to help those affected by the governing bodies' and Wimbledon's decisions.
"I think those conversations are really hard," the former world number one said.
"When I have any of those conversations I don't look at myself and if I am affected. I look at the bigger picture. I believe that I'm not the centre of the universe and I'm not the only person that matters.
"I believe in the unity of players, I believe that sport should unite people. I hope we have an opportunity to show what sport can bring when we unite and do something together for the good.
"To talk more about that, I'm affected in the situation, I'm not a victim. I will never speak as a victim. I believe in the greater good."
Rafael Nadal, a two-time Wimbledon champion, said he did not have a "clear opinion" on the ATP's decision to remove the tournament's ranking points.
"At the end, I understand both sides," the Spaniard said.
"I respect and I understand Wimbledon's position, without a doubt, but on the other hand, I understand and I respect too that the ATP is protecting its members.
"That's it. [It] is not that one is doing a negative thing and the other one is doing the good thing. Everyone half."
Ukrainian Tsurenko calls for more support from players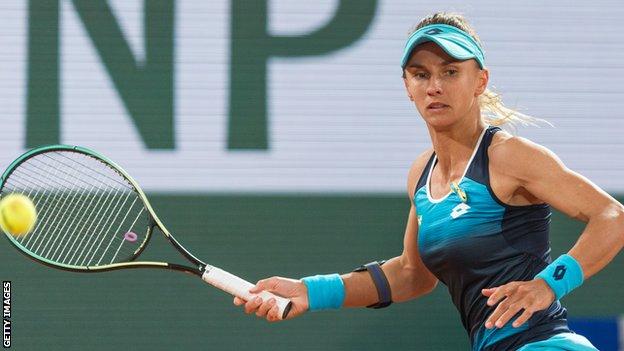 Speaking after her first-round loss to Swiatek on Monday, Ukrainian player Lesia Tsurenko said she had not received much support from players privately regarding the situation in her homeland.
"I don't know if I can ask players to care more, but I would like to see that from the players, from the WTA, from the ATP, I would like top players just to support more and to show more understanding of what is really going on [in Ukraine]," she told a news conference.
"For me personally it's tough to be here, just because I don't get much words said about the support of my country and ... it's just tough to be with people who [it] looks like they don't understand.
"It's just because it's me, I'm Ukrainian, and there's a war in my country and it's tough. I think five players spoke to me, maybe four or five."
Swiatek wore ribbons in the colours of the Ukrainian flag on her cap during her match against Tsurenko.