Dan Evans on Australian Open, Covid-19 & Sam Querrey
Last updated on .From the section Tennis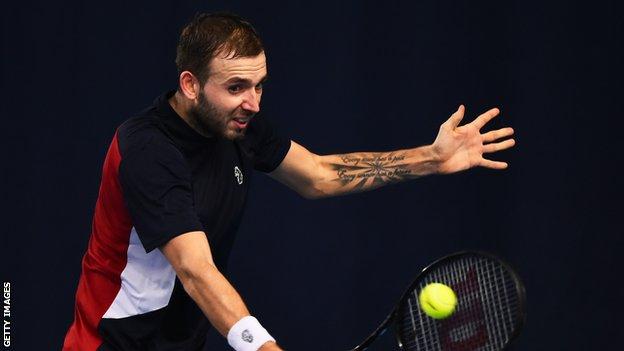 British number one Dan Evans says he is unsure if the Australian Open quarantine rules will allow players "enough preparation" to perform at their best.
Players must quarantine for 14 days on arrival in Melbourne, and will be allowed out of their rooms for five hours each day for training and meals.
"That will be a different experience and we will have to learn how to manage ourselves in that time," said Evans.
The Grand Slam starts on 8 February.
It was scheduled to start on 18 January but was pushed back three weeks because of the quarantine restrictions imposed by Victoria state government officials.
Players are expected to arrive in Melbourne from 15 January, although Evans indicated the exact details have not yet been confirmed.
On Tuesday, Australian Open tournament director Craig Tiley said there "have been some unavoidable delays" in finalising the details of up to 18 chartered flights.
On only being allowed out for five hours each day, 30-year-old Evans added: "If that is enough preparation, I don't know but we will see how the tournament goes.
"Tennis Australia have done a good job to put the tournament on in this situation."
Before the Australian Open, there will be two ATP tournaments simultaneously taking place at Melbourne Park from 31 January - one of which is the relocated Adelaide International.
Evans, who is ranked 32nd in the world, was set to play in the season-opening Delray Beach tournament in Florida this week, before deciding he was not ready to compete.
Instead he has been training at the National Tennis Centre in London in preparation for the Australian Open.
"Covid has allowed us to have a little longer pre-season than normal so I guess that is one positive," he said.
"The Australian Open has been pushed back a little so I've had a bit more time to make my way into pre-season rather than dive straight in and start working full out.
"I've had a bit of time off, then slowly started training again to get into some good shape for the next year.
"I'm enjoying it but ready to get on the plane to Australia now - whenever that might be."
Querrey fleeing to London 'doesn't sound great from the outside'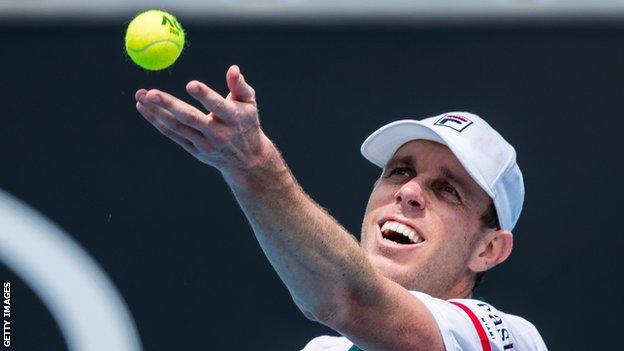 Meanwhile, American player Sam Querrey leaving Russia for London after contracting coronavirus "did not sound great from the outside", says Evans.
Querrey was given a suspended £14,700 fine by the men's governing body, the ATP, for breaching Covid-19 protocols.
In an interview with Sports Illustrated magazine this week, the former world number 11 said he did not "feel comfortable" staying in Russia with his wife and baby son.
"Sam's situation was his situation. I heard there were lots of other things involved," said Evans.
Querrey, 33, and his family left Russia in a private jet after all three tested positive for the virus before the start of the St Petersburg in October.
The family were allowed to enter the United Kingdom and quarantined in an Airbnb property in the British capital.
"From the outside it doesn't sound great," added 30-year-old Evans.
"I'm not a father or parent so I'm not in a great position to comment."