Bob Brett: Former Boris Becker and Goran Ivanisevic coach dies aged 67
Last updated on .From the section Tennis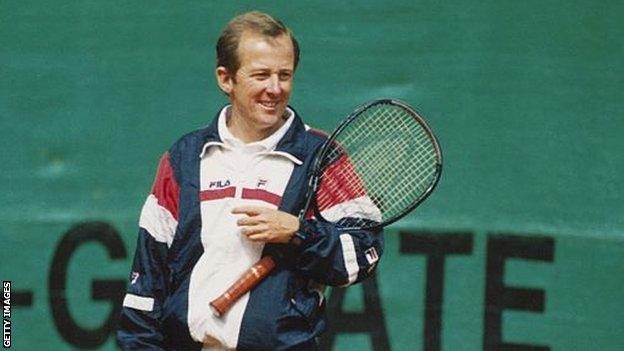 Bob Brett - a coach to Boris Becker, Goran Ivanisevic and Marin Cilic - has died of cancer at the age of 67.
The Australian helped Germany's Becker win Wimbledon, the US Open and the Australian Open between 1989 and 1991.
In his 2004 autobiography, Becker said Brett gave him "exactly what I needed" as a coach, demanding "willingness, discipline, willpower and punctuality".
Brett, who helped Ivanisevic reach three Grand Slam finals, opened a tennis academy in Italy, in 2002.
Repetition breeds success
BBC Sport tennis correspondent Russell Fuller:
Just as he was shaped by the teachings of Hopman, so many players and coaches have benefitted from the softly spoken influence of Bob Brett.
The big titles rolled in during the Becker years, and even though Ivanisevic did not quite win Wimbledon while working with Brett, he did just a few years later.
Similarly, nine years with the Australian set Cilic on course to become a US Open champion.
More recently, Brett spent just under a year as the LTA's Director of Player Development. Despite being much more effective in a tracksuit than behind a laptop, he made a lasting impression on many British coaches.
He was a firm believer in repetition. "You will hit this number of forehands cross court before we finish," he might have said, "and if you miss, you must start all over again".