Australian Open 2021: Delayed tournament to start on 8 February
Last updated on .From the section Tennis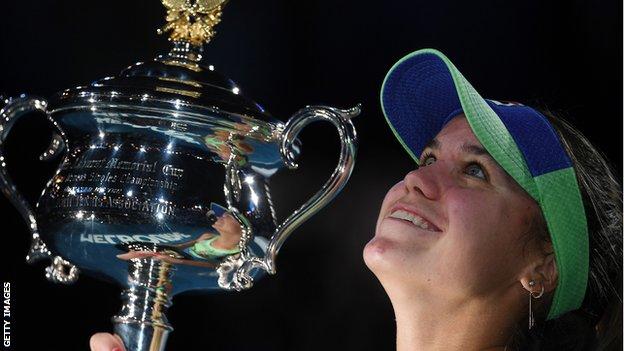 The Australian Open will start on 8 February next year after being pushed back three weeks because of the coronavirus pandemic.
The first Grand Slam of the 2021 season was scheduled to take place in Melbourne from 18 to 31 January.
The four-day men's qualifying event has been moved to Doha, Qatar and will start on 10 January.
Players will arrive in Melbourne on 15 January for a 14-day quarantine period under local coronavirus rules.
The news was confirmed when the ATP announced the schedule for the first seven weeks of the men's tour next year.
The season will start with events in Delray Beach in the United States and Antalya in Turkey on 5 January.
There will be two tournaments in Melbourne starting on 31 January - one of which is the relocated Adelaide International - while a condensed 12-team ATP Cup will take place from 1 to 5 February.
"The reconfigured calendar for the start of the 2021 season represents a huge collaborative effort across tennis, under challenging circumstances," ATP chairman Andrea Gaudenzi said.
"Health and safety will continue to be paramount as we navigate the challenges ahead."
Analysis
Russell Fuller, BBC tennis correspondent
As painstaking negotiations continue between Tennis Australia and the Victorian state government, we do at least now have firm dates for a delayed Australian Open.
There was initial opposition to the quarantine rules from male players, in particular. They will be tough for elite athletes, in the build-up to a Grand Slam, but nothing like as tough as they are for Australian citizens returning home.
With only 1,000 people allowed into Victoria for the tournament itself, qualifying will take place in the Middle East, with the women's event scheduled for Dubai.
During 14 days of quarantine, players must stay in their rooms for 19 hours a day: they will be allowed out only for practice, gym work and to dine on site.
According to a recent letter sent to players, and seen by BBC Sport, only one member of their team will be able to join them at the venue. And for the first week of quarantine, a player must practise with the same partner each day.
Any breaches will be met with a range of sanctions - including the threat of deportation.
And then after a fortnight, in which players will hopefully have returned five negative Covid PCR tests, they will be free. There will be no bubble: players will be able to stay and eat where they wish.
The ATP says all tournaments from the European clay-court swing in mid-April are "planned to take place as originally scheduled".
But there are still question marks over what happens after the Australian Open. The Indian Wells tournament will not take place in March, and tournament owner IMG has been investigating whether it can move the Miami Open to the Middle East: a region which will host a lot of tennis in the first quarter of 2021.