Australian Open: Johanna Konta says uncertainty over quarantine is frustrating

By Russell Fuller
BBC tennis correspondent
Last updated on .From the section Tennis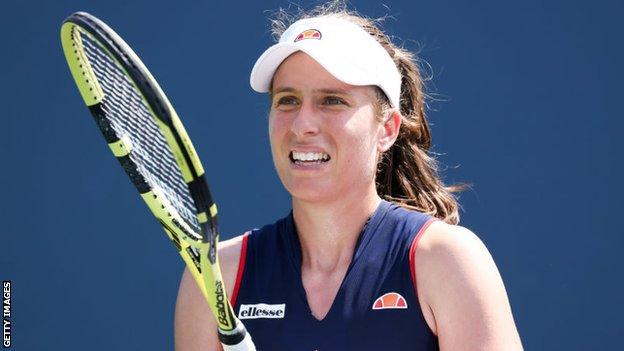 British number one Johanna Konta says a decision to prevent players arriving for the Australian Open in mid-December has come as "a bit of a shock".
Tennis Australia had been hoping players would be able to fly to Melbourne in time to quarantine for two weeks, and then start the season on 1 January.
But the government of Victoria has intervened, and sources have indicated players will not be allowed into the state until the end of December at the earliest.
"Everyone was very much looking forward, and had kind of got their head round the 14 December date, and I think it came as a bit of an adjustment, a bit of a shock," Konta, the world number 14, told BBC Sport.
"Everyone is obviously a bit frustrated. However, it's not under our control, it's not under Tennis Australia's control - it's a government decision.
"I think we just have to stay flexible, and stay open that things might change again, but hopefully if not we will be heading out at the end of December."
Victoria premier Daniel Andrews said the government was still working with Tennis Australia on quarantine arrangements.
"We're confident that we'll finish up with an Australian Open," he said. "Whether [players] need to be here in December is the other issue.
"I don't know if that necessarily means there isn't an Australian Open."
If the players do arrive in late December, they could potentially have enough time to be ready to start the Australian Open qualifying event, as scheduled, on Tuesday, 12 January.
But that assumes players will be able to practise during their quarantine - something which is likely, but has not yet been signed off by the state authorities.
Konta says players would be putting their bodies at risk if they did not have access to the courts during quarantine.
"From my perspective, my body wouldn't be able to handle two weeks of de-conditioning, and then pushing me into the deep end," the 29-year-old added.
"I think it would make it very difficult for players to be able to compete at the highest level without risking their bodies in the process.
"I think in an ideal world, players would get the opportunity to play one or two warm-up events. But I think this year has probably taught us there's everything but probably ideal."
It may even still be possible for players to compete during the period of quarantine, as happened in New York in the run-up to the US Open.
Another possibility is that the Australian Open is pushed back by a week or two, to allow warm-up events to take place. Tennis Australia has already decided, for quarantine reasons, to stage all tournaments in Victoria.
Defending champion and world number one Novak Djokovic said he would quarantine for as long as was necessary to compete.
"As far as I know so far the Australian Open will happen, whether it's in the current week or the week later," the Serb said on Wednesday.
"I'm planning to play the Australian Open for sure. I mean, I would like to go there and I'm ready to quarantine.
"I hope that there is going to be support and understanding from the Victorian and Australian government for the players and for Tennis Australia and that they will allow players to compete in the second week of quarantine."
Tournament director Craig Tiley has openly discussed the potential delaying of the tournament in the past.
There would be repercussions for the events that normally take place in early February, but the first Grand Slam of the year will take priority.
The size of the draws could also be restricted, to reduce the number of people coming into the country.
There was no qualifying at September's US Open and there was no mixed doubles competition in either New York or at the French Open which followed.
Melbourne has reported no new cases of Covid-19 for 19 days, but a recent outbreak in Adelaide has alarmed those responsible for suppressing the virus.
The Association of Tennis Professionals - the governing body of the men's tour - said it was working "as hard as possible" to deliver the calendar of events.
"In discussions with Tennis Australia over the past 24 hours, we have been informed there are some new challenges around the previously planned arrival dates for players and team members," the ATP said in a note to players.