Wimbledon 2020: BBC TV to show classic finals, rewinds & Andy Murray weekend
Last updated on .From the section Tennis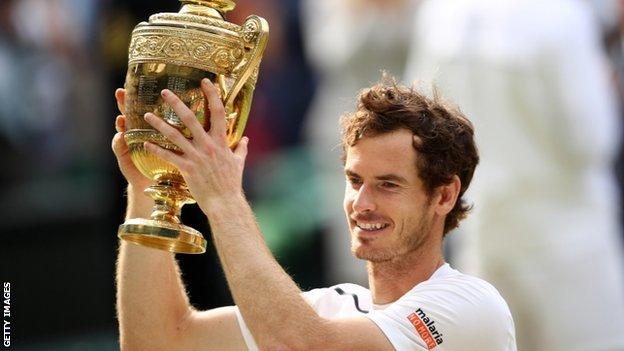 Wimbledon may be cancelled this year but the BBC will make sure you can still watch plenty of classic action and hear from the top players.
BBC Sport will have over 50 hours of programming for two weeks from 29 June, including weekday rewinds of memorable matches, an Andy Murray Greatest Hits weekend and a countdown of best finals.
Grab yourself some strawberries and cream while you enjoy matches like the Bjorn Borg v John McEnroe final from 1980 or the Ann Jones-Billie Jean King final from 1969.
Sue Barker will present a one-hour show, Wimbledon: The Best of the Championships, on BBC Two from 20:00 BST Monday to Friday, where she will be joined in the studio by Tim Henman and Boris Becker to look back on some of the highlights through the years.
Former champions John McEnroe and Martina Navratilova will be there via video link, while current players will reflect on life away from competition during the coronavirus pandemic.
And they won't be doing all the work - viewers can get involved with votes and quizzes on the BBC Sport website. There will even be the chance to send in their attempts at trick shots for review.
On weekdays, there will be a three-hour Wimbledon Rewind on BBC Two, with Clare Balding revisiting classic finals (see more below for more details).
On the weekend of 4-5 July, we'll be looking at the career of Britain's three-time Grand Slam singles champion Murray, and the following weekend features a countdown of the best women's and men's Wimbledon finals.
There is also a special documentary - One Day - which will look back on 14 July 2019, when the incredible final between Novak Djokovic and Roger Federer was being played out at the same time as England's dramatic cricket World Cup triumph.
The various programmes will be available to watch across BBC One, BBC Two, BBC iPlayer, the BBC Sport website and mobile app.
Highlights at a glance
BBC TV schedule (all times BST and subject to change at short notice)

Wimbledon Rewind

Weekdays 29 June-10 July (for times see below)

BBC Two

Wimbledon: The Best of the Championships

Weekdays 29 June-10 July (20:00)

BBC Two

Andy Murray's Greatest Hits

4 July (13:15) & 5 July (14:00)

BBC One

Wimbledon: The Greatest Final

11 July (13:15) & 12 July (14:05)

BBC One

One Day

12 July (19:00)

BBC One
Wimbledon Rewind day-to-day listings
All times are BST and subject to late changes. Programmes are repeated on the Red Button and available to watch on BBC iPlayer.
Monday, 6 July - BBC Two, 14:15-17:15
BBC Sport turns the clock back 40 years to 1980 in today's classic Wimbledon finals, which feature four tennis legends and the most famous tie-break in history.
Evonne Goolagong Cawley had won the Wimbledon title as a teenager back in 1971, and the popular Australian, now a mother, was looking to win it again nine years later. She faced American Chris Evert, who was aiming to lift the famous Venus Rosewater dish for the third time.
The men's singles final that year featured the top two seeds, with ice cool Swede Bjorn Borg up against fiery young American rival John McEnroe. Borg had won the Wimbledon title for the previous four years but 21-year-old McEnroe had claimed his first Grand Slam at the US Open the year before, and now had the Wimbledon singles crown in his sights.
Tuesday, 7 July - BBC Two, 14:15-17:15
American Billie Jean King came into the 1969 final looking for a fourth consecutive Wimbledon singles crown. She was up against British hope Ann Jones, who was looking to avenge her straight-sets defeat by King in the final two years previously.
Fast forward 50 years to 2009 to watch Roger Federer attempt to regain his Wimbledon title against the big-serving Andy Roddick.
Wednesday, 8 July - BBC Two, 14:15-17:15
A chance to relive a couple of great Wimbledon finals - the 1993 rollercoaster involving Steffi Graf and Jana Novotna, and the 1975 classic between Jimmy Connors and Arthur Ashe.
Thursday, 9 July - BBC Two, 14:15-17:15
Having battled her way back from serious illness and injury in 2012 could Serena Williams clinch a fifth title or would former junior champion Agnieszka Radwanska deny the American?
Pete Sampras dominated Wimbledon in the 1990s, winning the men's title six times in the last seven years of that decade. In 2000, he was chasing a piece of history because victory would mean a 13th Grand Slam title, thus breaking Roy Emerson's long-standing men's record for most majors won. In the final, Sampras was up against Australia's Pat Rafter.
Friday, 10 July - BBC Two, 14:15-17:15
A look back to last year, when the singles finals brought together top seeds Novak Djokovic and Roger Federer, and former world number ones Serena Williams and Simona Halep.