Australian Open qualifying matches cancelled after rain & air quality concerns
Last updated on .From the section Tennis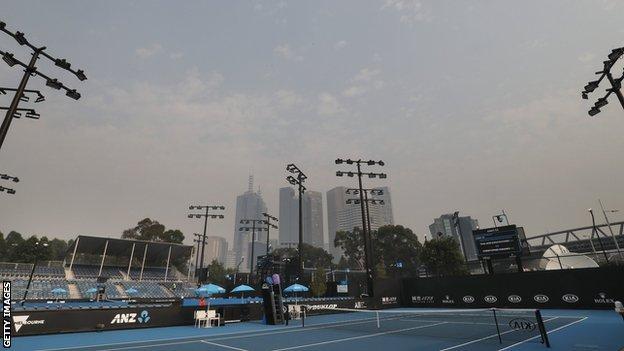 Australian Open qualifying was cancelled for the day because of rain after earlier delays caused by the "very poor" air quality from ongoing bushfires in the country.
Play was delayed by three hours after the air quality was rated "unhealthy".
Matches began at 13:00 local time (02:00 GMT) but were later suspended for the day because of heavy rain.
On Tuesday, Slovenia's Dalila Jakupovic had to be helped off court after retiring from her match.
Air quality in the city was rated as moderate by late afternoon.
At least 28 people have died and an estimated 10 million hectares (100,000 sq km) of land in Australia has burned since 1 July.
Victoria's chief health officer Dr Brett Sutton said it was "awful" to see players struggling with the air quality, adding that it was a "juggling act" for the tournament organisers over when to play.
"I can't make a call on what individual thresholds might be - it really does depends on what it might mean to enclose a space and what filtration systems they might have as alternatives," he said.
"But I think they need to consider through all those thresholds - from poor to hazardous air quality - what their alternatives might be with the view to protecting as many players as possible."
Harriet Dart was the only Briton to win on the opening day of qualifying on Tuesday but her second-round match against Nicole Gibbs has been pushed back to Thursday.
"It was a little bit different, especially with the visual appearance of everything," Dart told BBC Radio 5 Live.
"I didn't go outside too much until my match. I think I was quite lucky to be playing later as the conditions definitely improved as the day went on."
The Rally for Relief exhibition match - featuring Roger Federer, Rafael Nadal and Serena Williams, with all money raised being donated to the bushfire relief fund - is scheduled to take place at Rod Laver Arena on Wednesday night.
Analysis
BBC tennis correspondent Russell Fuller in Melbourne
Landing at Melbourne airport on Wednesday morning was a sobering experience. Reminiscent of a foggy autumnal day, the sun was completely obscured by smoke from the bushfires.
The air quality did improve as the day went on, although not until the first three hours of play had been lost.
The heat and humidity were probably the most unpleasant elements for the players on this second day of qualifying - until the thunder clouds rolled in, and turned the courts into paddling pools.
The rain is, of course, extremely welcome. And it is water rather than smoke which is likely to cause the biggest headache for the schedulers over the next few days.