Wimbeldon: Wheelchair quad events added to schedule in 2019
Last updated on .From the section Tennis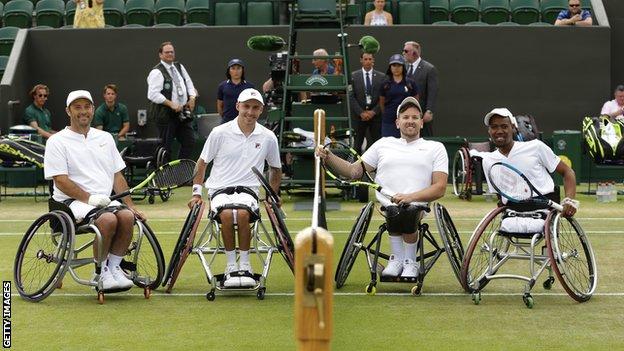 Quad singles and doubles wheelchair tennis events will be added to the schedule at Wimbledon in 2019.
Quad events are currently played at the US Open, the Australian Open and the Paralympics but not at Wimbledon.
The move comes after a quad doubles exhibition match was held during the 2018 Championships, featuring four of the world's top 10 quad players.
Quad events join the men's and women's wheelchair singles and doubles events in the schedule for next year.
Players are eligible to compete in the quad division if they have a permanent physical disability that results in significant loss of function in three or more extremities.
British 2014 US Open champion and world number three Andy Lapthorne, who took part in the quad exhibition match at Wimbledon, said: "It's been a big goal of mine to play competitive wheelchair tennis at Wimbledon and we got a little taste this year with the doubles exhibition, which was amazing.
"Now the All England Club has given us the opportunity to play competitively next year.
"It's the biggest event that you can play in tennis, so we're all really pleased that the work that has gone into this becoming a reality has paid off," he added.