Roger Federer beats Dominic Thiem to keep alive ATP Finals hopes
Last updated on .From the section Tennis19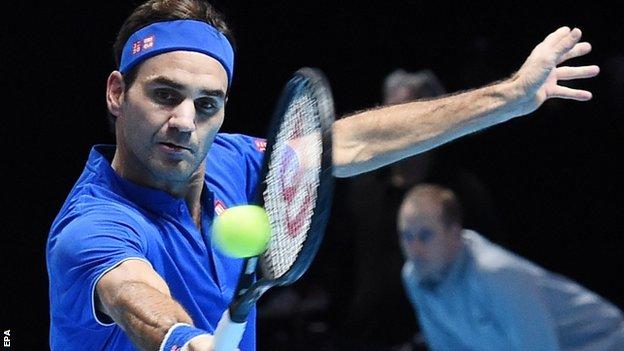 Roger Federer recovered from his first-match nightmare to keep alive his hopes at the ATP Finals with a comfortable victory over Dominic Thiem.
Switzerland's Federer, knowing defeat would mean he would not advance from his group, beat the Austrian 6-2 6-3.
The six-time champion had slumped to a shock defeat by Kei Nishikori on Sunday but he cut down on his errors to win.
Next up for Federer on Thursday is Kevin Anderson, who beat Nishikori 6-0 6-1 earlier in the day.
The action in London continues in the other group on Wednesday, when world number one Novak Djokovic plays Alexander Zverev, which you can watch on BBC Two (14:00 GMT) and follow with live text commentary, before Marin Cilic takes on John Isner with BBC Radio 5 live sports extra commentary online (20:00).
Federer rediscovers positive mindset
Just before walking on to the court, Federer spoke of the need to be "more positive" in his mindset.
He arrived with a little smile and a few waves before making his intentions clear from the very first game where he carved out a break point.
Although he failed to convert that one, he made no mistake in Thiem's next service game and celebrated with a fist pump when the Austrian sent a forehand long.
This was a completely different Federer to the one who had looked frustrated and grouchy against Nishikori in his opening round-robin match on Sunday.
And it was not just his mood that had improved considerably; his statistics had too.
Gone were the 34 unforced errors - instead a much more disciplined 11 - and with that a superb rate of 86% of first-serve points won and 81% of second-serve points.
He looked more like his old self and was helped by Thiem's errors, summed up when the Swiss sealed victory after the world number eight hit a forehand long.
"It feels good. I am very happy that I showed a reaction after the last match," Federer told Sky Sports.
"Today I was more positive and happy on the court. I love playing in London and I had to remind myself what a privilege it is. I hope I showed it."
Next up Anderson - and some maths
Had Federer lost to Thiem, he would have failed to reach the semi-finals at the season-ending event for just the second time in his record 16 appearances.
And while victory keeps him in the hunt in the Lleyton Hewitt group, his path to the last four is still far from certain.
With one match to play, all four players in the group can still mathematically qualify - and it has the potential to get very complicated.
It is possible that Federer could beat Anderson but still not advance if Nishikori beats Thiem, depending on who wins how many sets and games.
There is even a scenario whereby Federer can lose to Anderson in three sets but go through if Thiem beats Nishikori in two.
The meeting between 20-time Grand Slam champion Federer and world number six Anderson is a re-run of this year's Wimbledon quarter-final, where the South African fought back from two sets down to record a famous victory.
And after his ruthless showing against Nishikori, unbeaten Anderson is a tricky prospect.
"I hope it is not a match like Kevin Anderson played this afternoon," Federer said. "It is never easy to play against him, especially indoors. I am happy I am getting a chance to play him again and have a re-match [from Wimbledon]."
Group Lleyton Hewitt

P

W-L

Sets

Games

Kevin Anderson

2

2-0

4-0

25-10

Kei Nishikori

2

1-1

2-2

14-21

Roger Federer

2

1-1

2-2

21-18

Dominic Thiem

2

0-2

0-4

14-25
How the top two are decided in each group:
Greatest number of wins

Greatest number of matches played (eg. a 2-1 won-loss record beats a 2-0 won-loss record; a 1-2 record beats a 1-0 record).

If two players are tied: Head-to-head results

If three players are tied:

- 1) Highest percentage of sets won

- 2) Highest percentage of games won

- 3) Player's ATP Rankings coming into the tournament
Analysis
BBC tennis correspondent Russell Fuller
This was another lacklustre performance by Thiem, but Federer looked slick and sharp: in short, a very different player to the one beaten by Kei Nishikori on Sunday evening.
Federer gave up very few points on serve and broke Thiem four times, and yet still has plenty of work to do to reach the semi-finals.
He has the unbeaten Kevin Anderson to worry about, as well as some advanced arithmetic.
In theory, Federer could win in straight sets on Thursday and still go out, but he could also lose in straight sets and still go through.