Lawn Tennis Association facing further financial loss for 2018
Last updated on .From the section Tennis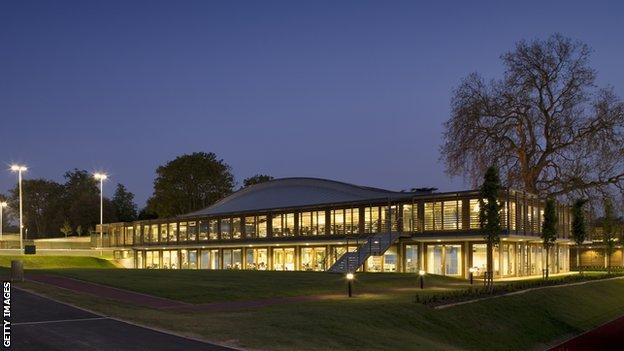 The Lawn Tennis Association is facing a sizeable financial loss for a third year in a row, BBC Sport has learned.
Sources suggest 2018's loss could be as high as £7.5m, but the LTA has told BBC Sport that figure is "wildly inaccurate".
The LTA retains vast cash reserves and their accounts for 2019 are expected to be much healthier.
It follows respective losses of £4.7m and £1m in the previous two years and a profit of £1.2m in 2015.
A spokesperson for the LTA said it "has a new vision to open tennis up and grow the sport through making it relevant, accessible, welcoming and enjoyable to anyone".
It continued: "The LTA is now looking at how best to deliver the new vision and where it can have the greatest impact, to meet the needs of fans, players, coaches and venues to play tennis across Britain."
Regional briefing documents seen by BBC Sport warned the LTA will post another financial loss in 2018, although their accounts for the year are not expected to be made public until April 2019.
A temporary reduction in revenues from the Wimbledon Championships because of the construction of a roof on Court One, which is due for completion in 2019, has contributed to the shortfall.
The documents also state that participation in tennis in Britain has fallen by nearly 10% compared to last year, despite relative successes on the court by leading players, including Kyle Edmund's run to the Australian Open semi-finals.
LTA's recent financial results

Year

Operating profit/loss

Profit/loss for the year

2017

-£7.4m

-£4.7m

2016

-£1.9m

-£1m

2015

£800,000

£1.2m
The LTA currently has nine regional offices in England, all of which are understood to be set to close to reduce costs, although their activities will continue to operate from a central base and it is thought that the work of county associations will be unaffected.
Those regional offices are in Loughborough, Cambridge, Roehampton, Southampton, Leeds, Edgbaston, High Wycombe, Bromley and Bristol.
In June, the LTA announced it was setting up national academies in Stirling and Loughborough in 2019 in a bid to boost the number of British players in the top 100.
Analysis
Russell Fuller, BBC tennis correspondent
The LTA may have reserves of nearly £140m, but will be concerned by a potential loss of about £12m over two years.
This year's accounts will be compromised by the end of a lucrative nine-year partnership with Aegon. The financial services company acted as both lead partner of British Tennis, and title sponsor of June's grass court events, until the end of 2017. The sponsorship provided by Fever Tree and Nature Valley in the summer of 2018 was not as extensive.
The LTA is at least assured a healthy long-term income as, under an agreement with The All England Club, it will receive 90% of the profits generated by Wimbledon until 2053.
A fall in revenue from Wimbledon was the principal reason for last year's financial loss, although safeguarding and IT costs were also a factor.
The outgoing chairman David Gregson said at October's meeting of the LTA Council that "work had to be done to align certain areas so that reserves were not used in the future".
LTA 'to build on charity's tremendous legacy'
On 8 October it was announced that much of the work done by the Tennis Foundation charity will be brought back under the LTA's control, but that integration is being welcomed and provision for disability tennis is set to be enhanced.
The LTA continued: "The work of the Tennis Foundation with disabled people, young people in education and young people in urban and disadvantaged communities is being integrated into the LTA to give it greater scale and reach."
The Tennis Foundation added: "We are taking advantage of the opportunity to integrate these activities into the LTA in order to achieve real inclusion across our sport.
"The move received the unanimous support of our board and will see our work not only play a key role in supporting the LTA's new vision to open up tennis and grow the sport in Britain but, crucially, enable it to be delivered with greater scale and greater impact than ever before.
"We are tremendously proud of the achievements of the Tennis Foundation over the last 31 years and the legacy we have created, which the LTA can now take forward and build on as part of a bright future for our sport."