Colin Kaepernick: Donald Trump criticises Nike after advert, saying NFL is 'hard to watch'
Last updated on .From the section American football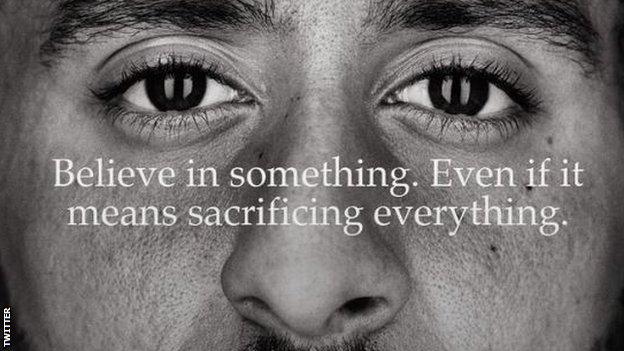 US President Donald Trump has criticised sportswear company Nike following its decision to use Colin Kaepernick as the face of a new campaign.
Kaepernick was the first NFL player to kneel during the national anthem to highlight racial injustice.
But critics have burned Nike trainers and clothing in protest at the decision to use Kaepernick in a campaign.
"Nike is getting absolutely killed with anger and boycotts," Trump said.
"I wonder if they had any idea that it would be this way?" he added in a tweet.

The president also continued his previous criticism of the NFL, saying: " As far as the NFL is concerned, I just find it hard to watch, and always will, until they stand for the FLAG!"
Trump's criticism came after tennis star Serena Williams - who is also part of the Nike campaign to mark the 30th anniversary of its 'Just Do It' slogan - praised the company's move.
Speaking after her defeat of Karolina Pliskova in the US Open, Williams called the decision to use Kaepernick a "powerful statement to a lot of other companies".
Williams said of former San Francisco 49ers quarterback Kaepernick: "He's done a lot for the African-American community, and it's cost him a lot.
The 23-time Grand Slam singles champion, who is sponsored by Nike, added: "Having a huge company back him could be a controversial reason for this company, but they're not afraid.
"It's sad. But he continues to do the best that he can to support."
After Nike unveiled the campaign, Williams tweeted that she was "especially proud to be a part of the Nike family".
Basketball's LeBron James - also a Nike ambassador - added his support at an awards ceremony on Tuesday, telling the audience: "I stand with Nike, all day, every day."
However critics on social media have been using the hashtag #JustBurnIt - a play on Nike's slogan 'Just Do It' - which trended alongside #BoycottNike.
In announcing the deal, Nike said Kaepernick - who has been out of a contract since March 2017 and has failed to find a new team - was "one of the most inspirational athletes of this generation".
The NFL said it "embraces the role and responsibility of everyone involved with this game to promote meaningful, positive change in our communities".
Kaepernick, who watched Williams' third-round win over sister Venus at Flushing Meadows, has filed a grievance against NFL team owners he claims conspired not to hire him because of his protests.