US Open 2018: Serena Williams catsuit row '10,000 times worse', says Alize Cornet
Last updated on .From the section Tennis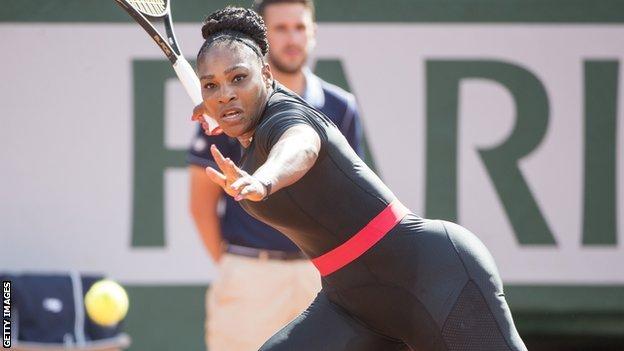 French player Alize Cornet said the decision to ban Serena Williams from wearing a catsuit at future French Opens was "10,000 times worse" than her on-court reprimand at the US Open.
Williams, a 23-time Grand Slam singles winner, said in May she wore the outfit to help her cope with blood clots.
Cornet, who received a code violation for removing her shirt on court, scolded her federation president.
"Bernard Giudicelli lives in another time," she said.
"What he said about Serena's catsuit was 10,000 times worse than what happened to me on the court on Tuesday, because he's the president of the French federation and because he doesn't have to do that."
Giudicelli, in an interview with Tennis Magazine, said Williams had to "respect the game".
"These kind of comments are totally shocking for me," Cornet added.
The Frenchwoman also said she was stunned that the incident with her shirt during the defeat by Johanna Larsson had caused so much controversy.
Criticism of the umpire's decision followed as he was accused of double standards.
US Open organisers said they "regret" that Cornet was given a code violation and had clarified their policy to "ensure this will not happen moving forward".
"Everybody was pretty scared that I could get a fine for it," added the world number 31. "I was also scared. They were telling me that if I get fined, we would all be together and see the WTA and make a revolution and stuff.
"I was, like, 'Calm down. I'm going to get the information first and then we see if we make a revolution or not,'" said Cornet.
"I think it's very fair from them to apologise to me. I think the umpire was probably overwhelmed by the situation."