Davis Cup: Proposed revamp will kill event, says German tennis boss

By Simon Mundie
BBC Radio 4 Today sports reporter
Last updated on .From the section Tennis16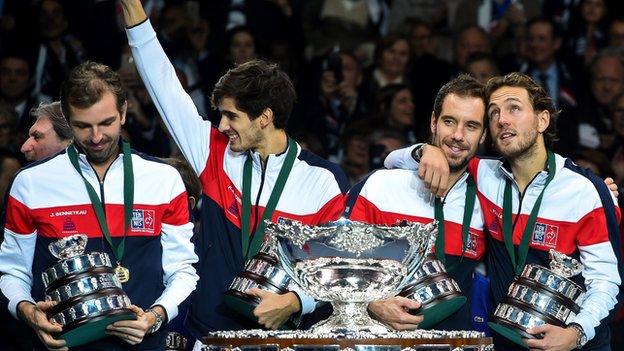 Plans to revamp the Davis Cup to create an 18-nation World Cup of Tennis Finals will "kill" the competition, says a German Tennis Federation (DTB) boss.
The International Tennis Federation will vote this week on plans to create a new week-long event, to be held each November.
However, it would clash with the ATP's proposal for a revamped World Team Cup, set to launch in January 2020.
"It will kill the Davis Cup," said DTB vice-president Dirk Hordorff.
"You cannot make an event which is more or less an exhibition, after the Masters in November, and expect the players to come," he added.
"We all know how many players are injured and unavailable to play in the Masters, so to have another event after that doesn't make any sense if you want to have the players.
"The Davis Cup is the crown jewel of the ITF, and if you change something then you have to have a clear concept and a clear contract, but even board members, regional federations and big nations asked questions and they don't get the answers."
The ITF, which is the sport's governing body, is meeting in Orlando this week to vote on significant changes to the oldest men's team event in tennis.
In February, ITF president David Haggerty outlined a 25-year, $3bn (£2.15bn) plan - supported by an investment group founded by footballer Gerard Pique - for a "major season-ending finale that will be a festival of tennis and entertainment".
Victor Artuchowski, vice-president of the Polish Tennis Federation, added: "They've had five months to explain what's happening.
"We've asked for analysis and due diligence - and we've had very few answers. We're going into one of the biggest things in tennis blind.
"Our chief executive has been told by a board member that if we don't go through with this deal, the ITF will be bankrupt. Looking into the analysis of the accounts which we have looked into, this isn't strictly true."
Haggerty, however, has disputed Artuchowski's comments, saying that there had been a full consultation, and that there was support for the proposals from several high-profile players, such as Novak Djokovic.
The ITF president said: "We've provided written details to members, travelled extensively to meet with regional and national associations, and hosted town hall events at Roland Garros and Wimbledon to provide detail and hear feedback, much of which has been incorporated into the final proposal, such as the 24-team qualifier round to be held each February.
"Novak Djokovic recently expressed his full support for the project, and over the past three months a number of players have spoken positively about the reforms including Rafael Nadal, Marin Cilic, John Isner and David Goffin.
"Privately the majority of players see and support the benefits this change will have.
"We are confident the changes will be approved by the necessary two thirds of voting nations."