Serena Williams says Wimbledon shows she can still contend at Slams
By Sonia Oxley
BBC Sport at Wimbledon
Last updated on .From the section Tennis
Serena Williams says her run to the Wimbledon final showed she can still be a contender to win Grand Slams and that this is just the start of her comeback.
Williams had been seeking a record-equalling 24th Grand Slam singles title 10 months after giving birth.
"These two weeks have really showed me that, OK, I can compete," she said.
"I didn't know a couple of months ago where I was, where I would be, how I would do, how I would be able to come back. It was such a long way to see light at the end of the road.
"Obviously I can compete for the long run in a Grand Slam. I can come out and be a contender to win Grand Slams."
Former world number one Williams, who has won seven Wimbledon singles titles, said she had learned a lot from her past seven matches at the All England Club.
While her serve remains powerful - reaching 125mph, the fastest in the women's singles - some rustiness showed in her finishing of sometimes routine shots and laboured movement around the court.
"I feel like I have a way to go. This is literally just the beginning," she said.
"Really just these two weeks were so mental for me. I won matches. I was really mentally fighting for every match. I did the best that I could every match that I played.
"I just feel like I'm taking the steps in the right direction. I took a giant step at Wimbledon. But my journey has just begun."
Kerber overcomes nerves to win title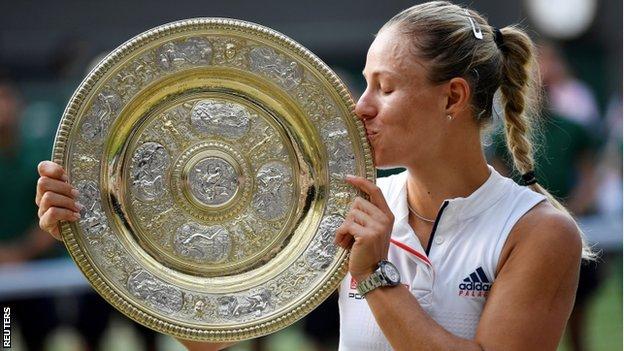 Kerber, 30, celebrated a childhood dream by winning her first Wimbledon and third Grand Slam title.
She did it by attacking Williams' serve and extending the rallies to make the American move. She forced Williams to come forward, with half of her 24 forays to the net ending in errors.
"I was quite nervous before the match," she said. "But I was trying to tell myself, 'Go out there and play your best match', because I know that against Serena I have to play my best tennis, especially in the important moments.
"I was trying to just b aggressive, when I have the chance going for it, because I know she served well and I have to move well, moving her as well."
She said one of the keys was being able to draw on her experience in a women's Wimbledon final that featured two players in their thirties for the first time in 41 years.
"I know the feeling of going out there in the semi-finals, playing the finals," said Kerber, who lost to Williams in the 2016 final.
"I knew what to expect. I think that helps me also be a little bit relaxed. To going out there, to focusing on my match, not thinking that's the final, that's Wimbledon."
She won the match on her first championship point when Williams could only plant a service return into the net.
"At the end I was starting to be quite nervous. I knew that I have to take my first chance because you never know with her," said Kerber, who will rise to fourth in the world when the rankings are published on Monday after becoming the first German woman to win Wimbledon since Steffi Graf in 1996.
"When I was a kid I was always dreaming for this moment. To win Wimbledon, it's something really special in my career."