Roger Federer out of Wimbledon 2018 after Kevin Anderson defeat
By Jonathan Jurejko
BBC Sport at Wimbledon
Last updated on .From the section Tennis
Eight-time Wimbledon champion Roger Federer says he "did not see defeat coming" before a shock quarter-final exit against Kevin Anderson.
Top seed Federer, 36, had not dropped a set on his way to the last eight.
He missed a match point when two sets up before eighth seed Anderson fought back to win a remarkable contest.
"I felt great in practice, good in the warm-up. I'm feeling the ball well," the Swiss said. "It just happened to be that today wasn't the day."
Federer had been the favourite to win a record-extending ninth men's singles title, but was beaten in a contest that lasted more than four hours.
He equalled his own record of winning 34 consecutive sets at SW19 by taking the the first two against Anderson.
The defending champion had not dropped a service game at this year's championships either - part of a run spanning 85 games - until Anderson broke him in the second set.
Anderson's comeback victory is only the second time Federer has lost at Wimbledon after leading by two sets, following a quarter-final defeat by Jo-Wilfried Tsonga in 2011.
"It's disappointing losing the next two sets after winning the first two and having match points," said Federer.
"I've been there before. I know what kind of energy I need to bring to the fifth. I was able to bring that.
"I didn't feel mental fatigue. Now I feel horribly fatigued and just awful. It's just terrible."
'You'd be reluctant to write Roger off yet'
Federer suffered his earliest exit at Wimbledon since a shock second-round defeat against Sergiy Stakhovsky in 2013.
The 20-time Grand Slam champion, who turns 37 next month, says he plans to return to SW19 next year.
"The losses hurt more, you don't want to be on the loser's side," he said.
"It motivates me to do extremely well here because I don't want to sit here and explain my loss. That's the worst feeling you can have as a tennis player."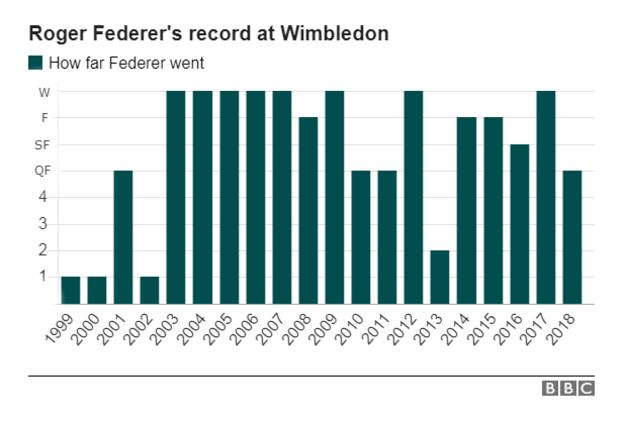 Former Wimbledon champion Pat Cash says he does not believe this defeat necessarily signals the end for Federer.
"You are reluctant to write Roger off - just the way that he moves around the court and he stays injury free," said the Australian, who won the title in 1987.
"He's not going to stay around forever but there's no reason for him not to come back one more year at least."
Analysis
Andrew Castle, BBC Sport tennis commentator
There's a sense of loss whenever Federer is beaten because he's so good to watch.
He's going to have another birthday before the end of the summer. This exit will be a tough blow, but he's faced defeats before.
No tournament wants to see Federer go out and we'll be denied a repeat of that 2008 Federer v Nadal final, which is a shame.
Djokovic is back in the locker room and he will be saying "thank you very much".
Pat Cash, 1987 Wimbledon champion and BBC Radio 5 live analyst
It's the shock of the tournament for sure. He was the red-hot favourite. We thought he could lose to maybe somebody else, but not necessarily Anderson, who hasn't had huge success coming into this tournament.
When Federer gets up 2-0, you don't think it's going to be a full five sets. You definitely thought Federer would get the job done. After Anderson calmed down and lost a pretty tight second set, Federer's forehand started going wayward.
Boris Becker, former Wimbledon champion
What an upset. This one had a taste of an easy victory after the first two sets. All credit to Anderson, he hung in there and somehow won the third.
It seemed the longer it went on the more aggressive he became and better he played at the end. Respect him - he deserved to win.