Andy Murray 'hoping' to be fit for grass-court season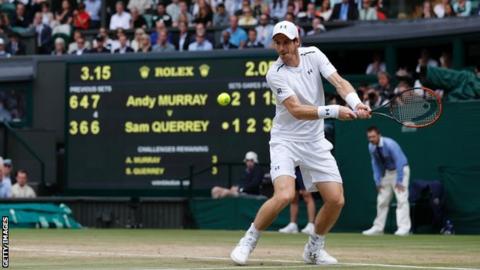 Britain's Andy Murray is "hoping" to be fit to return for the grass-court season, with further clarification expected in the next 24 hours.
Murray, 31, had a hip operation in January and has not played since Wimbledon last year.
The Scot recently returned to training but said progress had taken "a lot longer than me or any of my team expected".
"I'm getting closer to playing again," said the two-time Wimbledon champion.
Asked specifically about his chances of playing at Wimbledon, which starts on 2 July, Murray said: "I hope I'll be there".
Murray, who was speaking at a commercial event, is currently scheduled to play at the Ricoh Open in 's-Hertogenbosch, the Netherlands, next week.
"He is not a stranger to rehabilitation and this one has taken longer than anyone probably expected and certainly longer than he would have liked," his mother Judy told BBC Sport earlier this week.
"It has been incredibly frustrating for him and his team and you have to develop resilience. Fortunately he is very resilient, always working really hard and doing what he has to do.
"He knows what he still wants to achieve in the game. He is getting closer to where he wants to be and you will all hear from him in the next couple of days."
Murray missed the first six months of the 2004 season because of a knee injury and had surgery two months after his first Wimbledon title in 2013 because of a problem with his lower back.
But former Fed Cup captain Judy says her son - now the British number two behind Kyle Edmund - will not risk playing at Wimbledon if he is not ready.
"Any player who has been out injured, it takes you a bit of time to get back to top form," she said.
"When he had his back surgery in 2013 he was back playing within three months, but it took him the best part of a year to get back to his top form.
"You need matches to build up your match fitness. You are not going to come back and start where you left off.
"He will be guided by his body and how he feels. He is the only person who knows how he feels.
"The most important thing is he gets fit again for the long term and any top athlete would tell you they would not come back until they felt they could give 100%, especially in a major like Wimbledon."