French Open: Cameron Norrie buoyed by 'incredible week' after breaking into top 100
Last updated on .From the section Tennis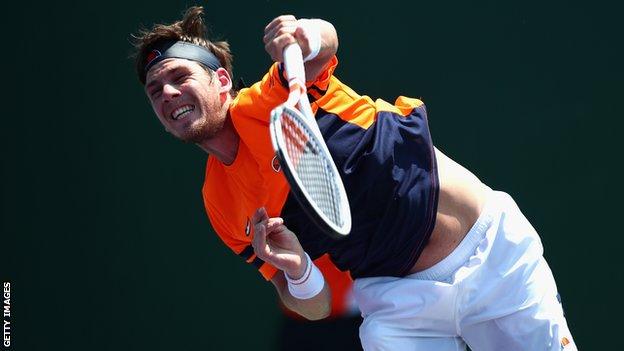 Cameron Norrie goes into his first French Open full of confidence after breaking into the world's top 100.
"Life is good at the moment," Norrie told BBC Scotland as he prepares for Monday's first round meeting with Peter Gojowczyk at Roland Garros.
"It's been an incredible week for me, to make my first ATP semi-final and to get my first top 10 win."
British number three Norrie is expected to rise to 85 in the rankings after his run in Lyon.
Germany's Gojowczyk is also on an upward trajectory, reaching the final in Geneva this week, and the 28-year-old will be up to 44 in the world by the time the pair meet.
"We will both be confident and it should be a great match," Norrie said. "I can't wait to get out there.
"Yesterday, I was at Roland Garros for first time since the juniors and it was a little overwhelming just to see all the people there.
"It was completely packed and that's before the matches start. It's a great feeling to be around here."
Norrie reached the semi-final in Lyon without dropping a set but was outdone by Gilles Simon, who was subsequently edged out by world number seven Dominic Thiem in the final.
"To beat a guy like Isner, the best server on tour, was just ridiculous for me," the left-hander explained.
"Also, just to prove to myself that I belong at this level.
"It was tough not to get through against Simon. I had chances, a couple of set-points, but he played clutch, he's very experienced.
"It was perfect to do it just before the French Open, to get some confidence and take it into this week and hopefully go deep [in the tournament]."
'A leftie version of Andy Murray'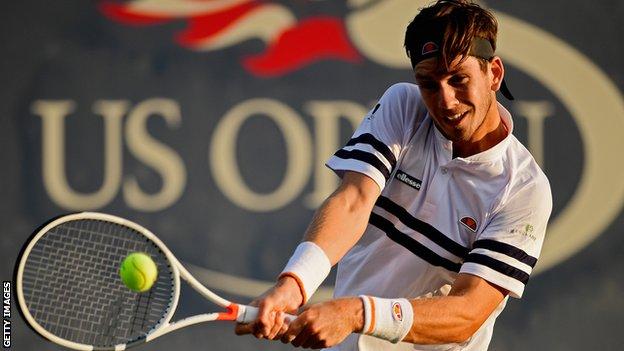 Norrie, who turned professional just 12 months ago after skipping his final year of studies in Texas, has Grand Slam experience after a Wimbledon wildcard last year and coming through qualifying at the US Open.
However, this will be the first time his ranking has earned him an automatic place at a major.
It comes on a surface that he has little experience of but is adapting to very well after a remarkable Davis Cup debut in February, when he beat Spain's Roberto Bautista Agut from two sets down on his first competitive match as a pro on clay.
"I was kind of shocked myself - to play that well," he said.
"My game sits up well on the clay, I'm able to dictate play with my forehand.
"Also, I was able to practice with Kyle Edmund just before all of these tournaments and I think he's one of the best on clay, with his aggressive style."
Norrie and Davis Cup team-mate Edmund combined to win the doubles title at Estoril early this month.
Asked to describe his style, he said: "Almost a leftie version of Andy Murray. I compete for every point, play physical.
"I think my best shot is my backhand. Murray has got a better slice and he's more solid than me - that's what I'm aiming for, to play like him, maybe come forward a bit more.
"But right now I'm just focused on improving. I'm taking it week-by-week and enjoying my tennis.
"I think I have the game, the attitude and professionalism to get to the top."