Britain's Jonny O'Mara & Scott Clayton lose Glasgow Trophy doubles final to Spanish duo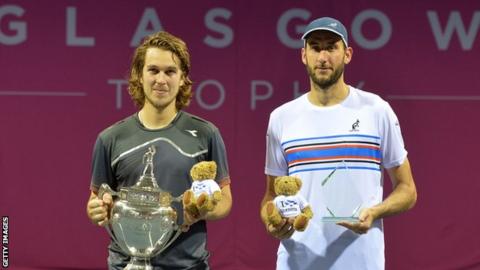 Top seeds Jonny O'Mara and Scott Clayton were unable to mark the inaugural Glasgow Trophy with a home win as they lost the doubles final to Gerard Granollers and Guillermo Olaso.
O'Mara, from Arbroath, and Jersey's Clayton lost 6-1 7-5 to the unseeded Spaniards in the ATP Challenger event.
The 23-year-old O'Mara said: "It was a tough match. We got off to a slow start, which in doubles can be costly.
"At the end of the day, it was a good week. We have to take the positives."
O'Mara, ranked 132 in the world at doubles, vowed to try to go one better next time he is in front of a sold-out home crowd.
"It's a shame personally for me that that match didn't quite happen in a final in Glasgow, but hopefully we get another chance at it again here in the future," he said.
"The crowd massively helped us. It was our fault that we didn't really get them into it in the first set.
"It was an unbelievable atmosphere."
Clayton, 24, from Jersey, paid tribute to the victors at Scotstoun.
"Credit where credit's due, our opponents played a very good match and had obviously looked at a few things and their tactics were pretty much spot on," he said.
It was a first ATP Challenger doubles title for the Spaniards and Olaso said: "We've known each other for 20 years, so winning a tournament together is something special."
The top seed did live up to his billing in the singles, with Slovakia's Lukas Lacko beating unseeded Italian Luca Vanni.
However, the 32-year-old threatened to repeat his last victory over the world 104 before Lacko secured a 4-6 7-6 6-4 success.
Lacko said: "Luca beat me two years ago, both of us like this kind of fast surface, where the balls bounce low, so I knew it was not going to be easy and, in the end, it was just two points and I took my chances."
The 30-year-old Slovak, who has been ranked as high as 40, had been on a losing streak and suffered a lack of confidence ahead of the tournament.
"It's a good feeling when you win a tournament, especially because I've been struggling the last two months," he said.
"I played surfaces I don't like and then I took four weeks off to reset and prepare, so coming back after two months and winning this tournament is pretty satisfying."
Vanni hoped that, despite defeat in the final, the ranking points would prove valuable.
"It's been an amazing week, because it is my first ATP Challenger final since 2016, when I was near top-100, and I think I am going the right way to go back up to the top 250," he added.