Britain's Jonny O'Mara and Scott Clayton reach Glasgow doubles final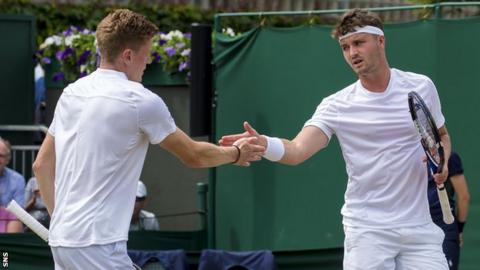 Britain's Jonny O'Mara and partner Scott Clayton have reached the final of the doubles at the inaugural Glasgow Trophy ATP Challenger event.
Arbroath's O'Mara and Jersey's Clayton, who are the top seeds, defeated Frenchman David Guez and Belgian Yannick Mertens 6-3 6-2 at Scotstoun.
They will face Gerard Granollers and Guillermo Olaso in the final.
The Spanish pair ousted second seeds and compatriots Mario Vilella Martínez and Roberto Ortega Olmedo 7-6 6-4.
O'Mara said: "That was a great performance. We picked up where we left off in the quarter-finals and the crowd out there were fantastic, barely any empty seats and making lots of noise.
"I find it very difficult not to play well and enjoy those scenarios.
"We've never played our opponents before but we've seen them around at tournaments so it should be fun."
Meanwhile, Luca Vanni will face top seed Lukas Lacko in the singles final after upsetting fellow Italian Matteo Valeo.
Vanni defeated the fourth seed 6-2 6-2 at Scotstoun, while Slovakian Lacko got the better of third-seeded Frenchman David Guez 6-3 6-3.
The win was a boost in confidence for 32-year-old Vanni, who is 314 in the world.
"I was coming from a not good period in my tennis, last six, seven months was tough because I was top 150 and I dropped back to the 300s," he said.
"But, with these results, I can be around 250 and the goal in my head for sure is to play qualies at Wimbledon and with this result I am going the right way."
Vanni got the better of Lacko, ranked 104 in the world, in a semi-final the last time they met.
"I played Lukas one and half years ago in an ATP Challenger in Bresia, Italy, indoor hard court but faster than here and I won the tournament," he recalled.
"But everybody knows Lukas Lacko," he said. "He's been like 40 in the world, he's still top 100 for the last 10 years, so it will be a tough match."
Lacko believes he has yet to hit top form despite reaching the final with another straight-sets win.
"I still lack a little bit of confidence, still playing percentage tennis," he said. "I feel I am the better player here, so I'm playing safe, but I need to improve this."