Colin Fleming wants more major tennis events in Scotland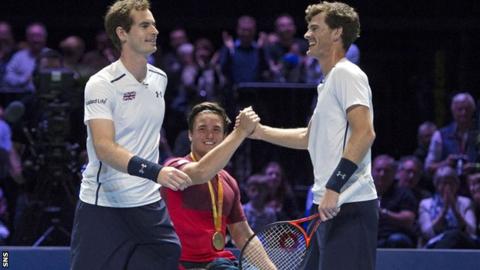 Team Scotland coach Colin Fleming insists the nation must build on the success of its star tennis players.
Believing the future of Scottish tennis is bright, he is keen to attract more elite events north of the border.
"It's no doubt it's been an unprecedented golden era, especially what Andy and Jamie (Murray) have done, and Gordon Reid on the wheelchair side", Fleming told BBC Scotland.
"Multiple grand slam champions, we've never had that in Scotland before."
Fleming is keen to get as many young people involved in the sport as possible to build on the profile created by the current generation.
He continued: "It's been an incredible era, long may it continue, for all three of them (the Murray brothers and Reid) to keep competing at the highest level.
"In the meantime we are working away in the background to try and provide as many opportunities, as many kids coming through onto the international stage as we can.
"Will any of them go on to win Grand Slams? That's a big ask, but if we can get them into the professional game and competing on the world stage that would be a phenomenal achievement."
The Glasgow Trophy, held at Scotstoun this week, is one of the highest level events contested in Scotland, with players vying for the $100,000 ATP challenger title.
"Tennis is very strong at the top end of the sport, and we need to try and capitalise on that at the lower end, and get players playing," said Fleming.
"I can't speak highly enough of this event and what it brings to tennis in Scotland.
"We have big tournaments like this in Britain - we've got Wimbledon, we've got Queens, we've got other tour events, but they're all down south.
"We've got one series event which happens in Glasgow every year and it's a $15,000 introductory event.
"To have something of this calibre is huge."
The 2010 Commonwealth Games mixed doubles champion says there are more events on offer outside of Scotland to watch and play in - but Fleming does not necessarily see that as a bad thing.
"Obviously if you are from the south east of England, there is a lot going on there," he said.
"You'll find that in the junior age groups as well, the British national competition, a lot of them tend to be down south, so we've got a job to do to try and get as many as them as we can up here.
"But at the same time it presents a nice little opportunity because I think we've always had a nicer spirit as Scots that have to travel that little bit further.
"It can make us that little bit tougher, hungrier and we can use that when we get out on the court."