Bernard Tomic unlikely to play for Australia again - Lleyton Hewitt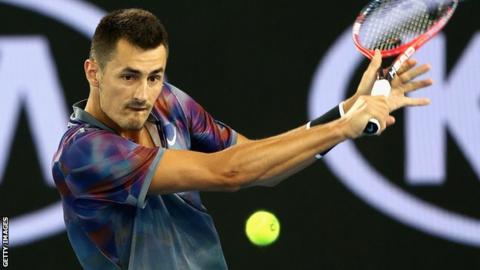 Bernard Tomic is unlikely to play for Australia again, the country's Davis Cup captain Lleyton Hewitt says.
Tomic, whose career has been affected by on and off-court controversy, failed to reach the Australian Open main draw but this week said the team could not win the Davis Cup without him.
The 25-year-old's world ranking has dropped to 168 after a slump in form.
"He's digging a big hole for himself that he may never get out of," former world number one Hewitt said.
When asked if Tomic might return to the Davis Cup team at some point, Hewitt replied: "It's highly doubtful."
After losing in the final round of qualifying in Melbourne this month, Tomic told reporters he was heading home to "count my millions".
He then appeared on the Australian version of reality TV show 'I'm a Celebrity...Get Me Out of Here!', but quit three days after entering the South African jungle, saying he was "depressed" and had "never felt this bad".
"For me, he's made some mistakes and it'll be a long way back," Hewitt said.
"He's wasting not only his time but also everyone's around him."
Tomic's timeline of controversies
2009 - Tomic - then ranked number 354 in the world - turned down the opportunity of a hit-up with Hewitt, with his agent saying Hewitt was "not good enough".
2012 - Tomic was fined three times for traffic infringements while driving on the Gold Coast on Australia Day.
2012 - He was dropped from Australia's Davis Cup team for a lack of effort.
2013 - Tomic's dad, John, was banned from the ATP World Tour for 12 months for headbutting and breaking the nose of his son's hitting partner, Thomas Drouet.
2013 - Tomic was caught speeding, which cost him his driving licence.
2015 - Then ranked world number 25, Tomic was arrested in Miami on charges of trespassing and resisting arrest after a late-night party. All charges were later dropped.
2016 - During his first-round loss at the US Open, Tomic verbally abused a spectator after apparently being 'taunted'.
2017 - After exiting Wimbledon in the first round, Tomic sparked outrage in Australia by saying he was "a little bit bored". He was fined and later dropped by racquet sponsor Head.
'He wouldn't help us'
Two-time Grand Slam winner Hewitt has long been a supporter of Tomic, but believes his recent outbursts have proved a step too far.
"It is pointless if he is playing in qualifiers and you are not committed to the sport," Hewitt, 36, said.
"I think everyone knows he wouldn't help us right now."
Hewitt's team for the Davis Cup consists of Nick Kyrgios, Alex de Minaur, Jordan Thompson, John Peers and John Millman.
Australia host Germany in the World Group first round of the team competition this weekend in Brisbane.
In 2017, they reached the World Group semi-finals, losing to Belgium in Brussels.