Australian Open: Age no issue, says Roger Federer after 20th Grand Slam title
By Piers Newbery
BBC Sport at Melbourne Park
Last updated on .From the section Tennis
Roger Federer said "age is not an issue" after he beat Marin Cilic to win his sixth Australian Open and 20th Grand Slam title at the age of 36.
The Swiss second seed won 6-2 6-7 (5-7) 6-3 3-6 6-1 to retain the title he won 12 months ago.
Ken Rosewall, who won the 1972 Australian Open at 37, is the only man older than Federer to have won a major singles title in the Open era.
"I've won three slams now in 12 months. I can't believe it myself," he said.
"I've just got to keep a good schedule, stay hungry, then maybe good things can happen. Then I don't think age is an issue, per se. It's just a number.
"But I need to be very careful in my planning, really decide beforehand what are my goals, what are my priorities. I think that's what's going to dictate how successful I will be.
"Exciting times ahead. As a professional, it's what we do. But I'm happy I'm in that position right now."
Federer was playing his 72nd Grand Slam tournament, and making his 19th appearance in the main draw in Melbourne.
After a gap of almost five years between winning his 17th and 18th major titles, he has now won three of the last five, having also claimed an eighth Wimbledon title in July.
Remarkably, Federer has now won 10% of the 200 men's singles titles on offer at the majors since tennis turned professional in 1968.
Asked how he continues to thrive at the top of such a competitive sport, Federer paid tribute to his wife and parents, adding: "I think by not overplaying, not playing every tournament possible.
"I enjoy practice. Not minding the travel. Having a great team around me, they make it possible."
Federer was tearful as he accepted the trophy, saying: "It was what it was. I wish it wasn't so sometimes.
"At the same time, I'm happy I can show emotions and share it with the people.
"If I got emotional, it's because it was a full crowd again. No people in the stadium wouldn't make me emotional, I'll tell you that. This is for them really also."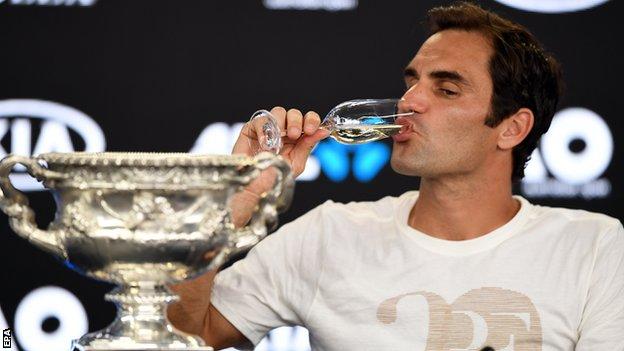 Cilic rues missed chance in decider
Cilic made a poor start, losing his first two service games and quickly falling 4-0 behind, and he felt the decision to close the roof under the extreme heat rule played a part.
"I didn't mind to have the roof closed, but it was a huge difference in temperature from having outside 38C," said the Croatian sixth seed.
"Then when you came in, it was like 23C or 24C, I don't know. It was way cooler than I expected."
Both men have strong records indoors but Federer was unsure whether the decision to use the roof would benefit him.
"I didn't mind the heat, to be honest," said the Swiss.
"I thought maybe for a bigger guy like Marin, maybe it's also going to slow him down faster throughout the match. At the end, it's not my decision. They kept me posted along the way."
It was the ninth time in 10 meetings that Cilic had lost to Federer, but he felt he missed a great chance when he was pushing for the break at the start of the final set.
"I was hitting the ball great. I was just playing phenomenal," he said.
"Then first game of the fifth set was more or less crucial at the end with having those break points that I didn't convert."
Reaction - 'Astonishing then, incredible now'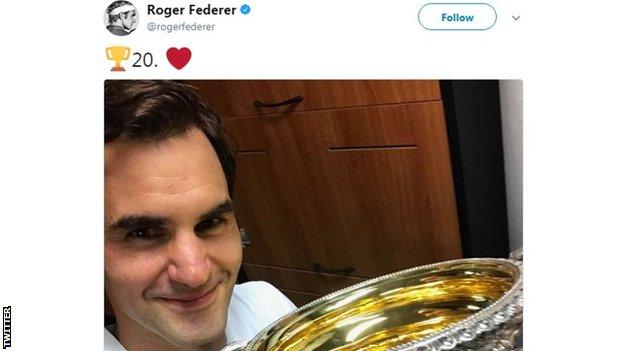 'It looks like he can go on forever'
Former British number one Andrew Castle: "It's the 127 other people in the draw who should be crying. Imagine what the outpouring is going to be when he announces he doesn't want to play any more - when he's concluded this amazing career.
"Some people will be surprised about the emotion that he's showing on his 20th but that's the depths that you have to go to to win these things. That's the amazing thing along with his tennis, he keeps wanting to do this. It's a charming moment and you can see what it means."
Former Australian Open finalist John Lloyd: "What I loved about it is that he's surprising himself. He can't almost believe it. We all look at him and take it for granted but he doesn't take it for granted. It's a challenge all the time.
"Every time you see him you wonder if it's going to be the last time, but he looks like he can go on forever."