Australian Open: Caroline Wozniacki relieved to end Grand Slam wait
By Piers Newbery
BBC Sport at Melbourne Park
Last updated on .From the section Tennis
Caroline Wozniacki was delighted that she will never again be asked about her lack of a Grand Slam title after winning the Australian Open.
The Dane, 27, beat Simona Halep 7-6 (7-2) 3-6 6-4 in Melbourne to finally land a major title at the 43rd attempt.
Despite ending the year as world number one in 2010 and 2011, questions had persisted about her failure to win one of the sport's four biggest titles.
"That's one of the most positive things about all of this," said Wozniacki.
"I'm never going to get that question again. I'm just waiting for the question, 'When are you going to win the second one?'
"Right now I'm just happy I have this one, and I'm going to really enjoy this moment."
On Monday, Wozniacki will return to the top of the rankings six years to the day since she was last number one.
"Obviously that's very special," she added.
"I think being new Grand Slam champion and world number one sounds pretty good. I'm very excited for that. It's a dream come true."
Wozniacki is the first Dane to win a Grand Slam singles title, and sits behind only Jana Novotna (45), Marion Bartoli (47) and Flavia Pennetta (49) for the most Grand slam appearances before winning a major.
She also collects £2.3m, which takes her past Victoria Azarenka into fourth in the all-time list for prize money on the women's tour, at around £21m.
Wozniacki was congratulated via social media by Serena Williams, who was unable to defend her Australian Open title four months after giving birth to her first child.
The American said she had been "too nervous to watch", adding: "I'm so proud of my friend."
Wozniacki responded: "It means a lot to me. Obviously she's a great friend of mine.
"It means a lot she was supporting and following. She's just the best. It's awesome."
'I'll be cuddling Daphne tonight'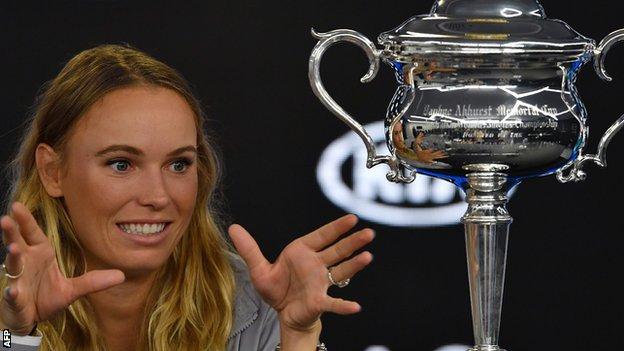 Wozniacki won junior Wimbledon in 2006 and played her first Grand Slam main draw match at the French Open in 2007.
Her previous Grand Slam final defeats came against Kim Clijsters at the 2009 US Open and Williams, also in New York, four years later.
She would end the year in the world's top 10 for six years running between 2009 and 2014, before injuries and poor form saw her slip further down the top 20.
"I think you always, at certain points, especially when you start having injuries and stuff, you start maybe doubting if you're ever going to be 100% healthy for longer periods of time," she said.
"But I think last year, already for a year and a half, I've proved that I can beat anyone out there on court."
Wozniacki was watched in the stands by her father and coach, Piotr, alongside her fiancee, former NBA player David Lee.
"Excited," was how she described her father's reaction. "They're out drinking right now, so they're having a great time."
As for Wozniacki, she could not let go of the Daphne Akhurst Memorial Cup when she faced the media several hours after her win.
"Being here tonight as a Grand Slam champion, Australian Open champion, it's very special," she said.
"Daphne here is going home with me tonight. I'll be cuddling with her."
Caroline Wozniacki's route to Australian Open success

Match

Opponent (seed)

Score

First round

Mihaela Buzarnescu

6-2 6-3

Second round

Jana Fett

3-6 6-2 7-5

Third round

Kiki Bertens (30)

6-4 6-3

Fourth round

Magdalena Rybarikova (19)

6-3 6-0

Quarter-final

Carla Suarez Navarro

6-0 6-7 (3-7) 6-2

Semi-final

Elise Mertens

6-3 7-6 (7-2)

Final

Simona Halep (1)

7-6 (7-2) 3-6 6-4
'Life goes on' - Halep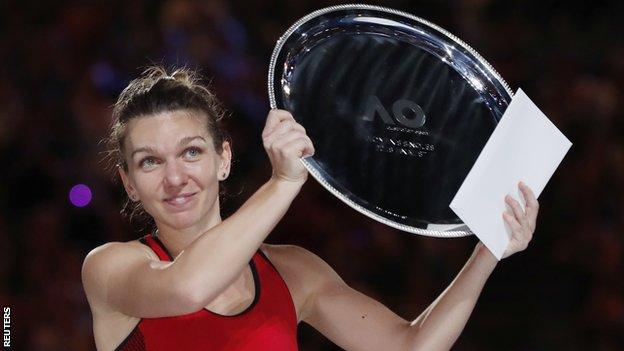 Halep had also been trying to win a first major title, after two French Open final defeats, but felt her body let her down in the end.
"I can still smile," she said. "It's fine. I cried, but now I'm smiling. It's just a tennis match in the end."
The Romanian, 26, had spent 11 hours and 30 minutes on court just to get to the final, saving five match points on the way and dealing with an ankle injury she suffered in round one.
By the time of the final she was suffering with her feet, and midway through the match with a headache and dizzy spells.
"I was really tired," said Halep.
"I had so many problems at my feet, pain everywhere. But I think I did pretty well with all the things that were going on.
"I did 100% what I could today. That's why I can say that I'm not sad for that. I'm sad that I lost the match, I was not the winner. But, you know, life goes on."
Analysis - 'Wozniacki will have sense of freedom'
Former world number seven and 2013 Wimbledon champion Marion Bartoli on BBC World Service:
It was one of the best Grand Slam finals I've ever seen. Caroline Wozniacki has that title forever now and she truly deserves it - she'll have a sense of freedom now and definitely huge relief.
It's very difficult when you finally have won a Grand Slam to go back out there and compete and fight every time, but maybe she can do it.
The next major is on clay which is by far her worst surface, as well as grass. She hasn't been able to perform well on both of those surfaces. So I think the next opportunity will be the US Open. By then Serena will be back, probably at her best level.
Will Wozniacki really have another opportunity like she had today? I don't know. And also will she have the drive to keep on practising as much and do as much as she does right now? I don't know either.
Reaction - 'Wozniacki's time to shine'



Wozniacki in profile
Born in Odense, Denmark on 11 July, 1990.

Made professional debut in 2005 as a wildcard at Cincinnati, losing in the first round.

Entered the top 20 in 2008, winning WTA titles in Stockholm, New Haven and Tokyo.

Won six WTA titles in 2010 to rise to number one in the world rankings.

After an inconsistent 2012, finished the year as number 10 in the world.

Completed the 2014 New York Marathon in a time of three hours 26 minutes 33 seconds.

Finished runner-up to Serena Williams at the 2014 US Open, but dropped out of the top 10 in the following years.

Won first Grand Slam on 43rd appearance in a main draw, rising to number one in the process.