Australian Open 2018: Tennys Sandgren says he is not a far-right sympathiser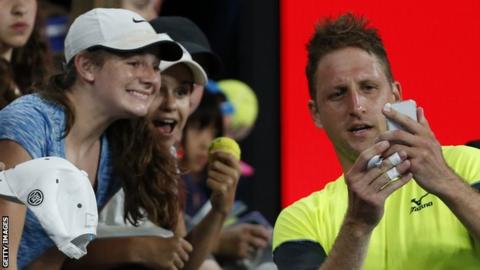 American tennis player Tennys Sandgren denied he was a far-right sympathiser as he was questioned about his beliefs after reaching the Australian Open quarter-finals.
The world number 97 was speaking after a dramatic five-set victory over fifth seed Dominic Thiem at Melbourne Park on Monday.
Sandgren, 26, was asked about his social media presence, specifically his activity around the postings of 'alt-right' figures in the United States.
Earlier this month, a video posted by Nicholas Fuentes - who says he attended a white nationalist rally in Charlottesville - was retweeted on Sandgren's Twitter account.
Sandgren later deleted 18 months' worth of tweets after being questioned at the news conference, where he had insisted: "Who you follow on Twitter, I feel, doesn't matter even a little bit.
"What information you see doesn't dictate what you think or believe. I think it's crazy to think that. I think it's crazy to assume that.
"To say: 'Well, he's following X person, so he believes all the things that this person believes'... I think that's ridiculous."
Sandgren had never won a match at a Grand Slam before this year's Australian Open, and is only the second man in the past 20 years to reach a quarter-final on his debut in Melbourne.
He beat Thiem 6-2 4-6 7-6 (7-4) 6-7 (7-9) 6-3 in three hours and 55 minutes, and will face South Korea's Chung Hyeon for a place in the semi-finals.
Sandgren was coached and home-schooled by his South Africa-born mother until he went to college, and "butted heads" with her for years as a "feisty" and "more negative version" of his current self.
Asked by reporters if he supported some of the alt-right movement, he said: "No, I don't. I find some of the content interesting.
"But no, I don't, not at all. As a firm Christian, I don't support things like that. I support Christ and following Him. That's what I support."