Davis Cup trial two-day best-of-three set matches for lower tiers in 2018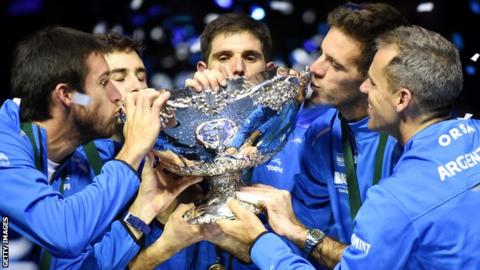 The Davis Cup will experiment with a two day, best-of-three set, format in the lower tiers of next year's event.
The World Group, which features 2015 champions Great Britain, will continue to contest best-of-five set matches over three days.
But all captains will be able to select five rather than four man teams.
The trial for Zone Groups I and II will see two singles matches played on day one, with the doubles match plus two reverse singles matches on day two.
Other changes for the trial include no fifth rubber being played if the fourth match is decisive.
International Tennis Federation president David Haggerty said: "Should the trial prove to be a success, we will be in a position to consider whether it should be applied for the World Group as well after 2018."
Analysis
BBC Tennis correspondent Russell Fuller:
Having narrowly failed to get a sufficient majority of member nations on board at last August's AGM, this is the ITF board's latest attempt to drive through changes to the Davis Cup.
They have their work cut out to restore the famous old competition to the position it once occupied. Top players frequently skip ties and there is now added competition from the Laver Cup, which saw Europe beat the Rest of the World in an exquisitely presented event in Prague last month.
Two-day, best-of-three set, ties are a step in the right direction. But the fact remains that the two teams which reach the final need to commit to four weeks of Davis Cup a year, and that is something few are willing to do.