Doubles partners Scott Clayton and Jonny O'Mara target top 100 world ranking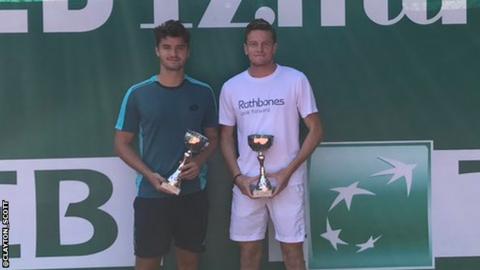 Scott Clayton says he and doubles partner Jonny O'Mara will look to enter the world's top 100 after their Challenger Tour win at the Izmir Cup.
The pair, who reached the second round at Wimbledon, have career-high doubles rankings of 153 and 167 respectively.
"I think we've started well and we're only improving," said Clayton, 23.
"Our main goal is to keep going into the latter stages of these tournaments and then try and get our ranking inside 100 as quickly as we possibly can."
The Challenger Tour is the second tier of professional tennis, below the main ATP Tour that features the sport's elite players.
Jersey-born Clayton is training with five-time Grand Slam doubles winner Jamie Murray this week, alongside Scotsman O'Mara, 19.
"We've had a lot of help and matches analysed by Jamie's coach Alan MacDonald and that's helped us massively," Clayton told BBC Sport.
"They like us, they believe in us, we've got a good relationship with them and it seems like they're happy to help, which is amazing for us.
"In the early part of next year we don't have a lot of points to defend, so I think that's when we can make a real move [in the rankings]."