BBC Sport - Wimbledon 2017: Oliver Marach gets a whack - This looks painful!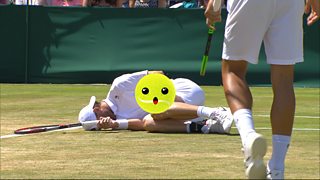 New balls please! - Marach gets a whack
Austria's Oliver Marach takes a blow in a very unfortunate place during his doubles match with Marcus Willis and Jay Clarke.
Fortunately, he recovers swiftly to a round of applause from the watching crowd - and even manages to crack an on-court joke about his ability to have children.
WATCH: Wimbledon 2017: Live coverage from 15 courts
Available to UK users only