Serena Williams calls Ilie Nastase comments 'racist' and backs investigation
Last updated on .From the section Tennis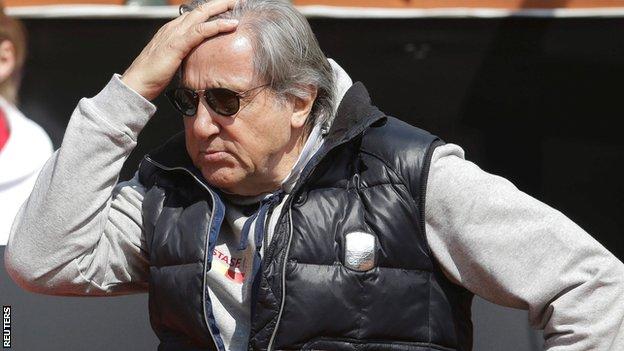 Serena Williams says Ilie Nastase's recent comments about her unborn child are "racist" and has given her backing to a full investigation.
"It disappoints me to know we live in a society where people like Ilie Nastase can make such racist comments," Williams said in a statement.
Williams, 35, is due to give birth to her first child in the autumn.
"I have said it once and I'll say it again, this world has come so far but yet we have so much further to go," Williams added. "Yes, we have broken down so many barriers - however there are a plethora more to go.
"This or anything else will not stop me from pouring love, light and positivity into everything that I do. I will continue to take a lead and stand up for what's right."
The International Tennis Federation (ITF) has launched an investigation into the comments made by 70-year-old Nastase, Romania's Fed Cup captain, at a news conference before their tie with Great Britain in Constanta last week.
"I humbly thank the ITF for any consideration given to all the facts in this case. They will have my full support," added Williams, who announced her engagement to Reddit co-founder Alexis Ohanian in December.
The 23-time Grand Slam champion also included passages from the poem Still I Rise by American civil rights activist Maya Angelou in her statement.
"I am not afraid like you. You see, I am no coward. Does my sassiness upset you? Why are you beset with gloom? You may shoot me with your words… you may try to kill me with your hatefulness, but still like the air, I rise."
Williams, who won her record-breaking Grand Slam at the Australian Open while eight weeks pregnant, thanked her unborn child as she regained the world number one ranking on Monday.
"You gave me the strength I didn't know I had. You taught me the true meaning of serenity and peace. I can't wait to meet you," Williams said in a separate statement.
"I can't wait for you to join the players box next year. But most importantly, I am so happy to share being number one in the world with you."
Williams captioned the statement on Instagram "from the world's oldest number one to the world's youngest number one."
WARNING: Some people may find the language below offensive
Williams criticises Nastase's treatment of GB team
Nastase's comments about Williams were followed by a foul-mouthed outburst during Romania's Fed Cup win over Great Britain.
Nastase swore at the umpire before abusing Johanna Konta and GB captain Anne Keothavong - calling them both "a bitch" multiple times - leaving Konta reduced to tears.
Before the tie began, he also put his arm tightly around Keothavong and asked for her room number, in earshot of the watching media.
Williams referenced the incidents in Romania in her statement, saying Nastase had made "sexist comments against my peers".
Nastase was banned from the tie and later handed a provisional suspension by the ITF.