Scott Clayton: Jersey's top tennis player to miss 2017 Island Games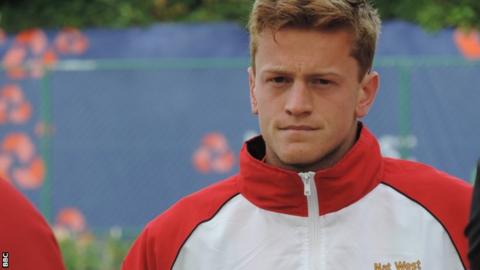 Jersey's top player Scott Clayton will miss the 2017 Island Games in order to focus on the grass-court season in mainland Britain.
The Games in the Scandinavian island of Gotland will take place the week before Wimbledon, for which Clayton hopes to qualify for the first time.
The 22-year-old is in good form currently, winning seven doubles titles in a row at Futures Tour level.
"My schedule during Gotland is going to be really rigorous," he said.
"It's a really busy time for tennis, there's going to be all the British grass-court events taking place, so I just thought it was time to say that I wasn't going to be involved and now the people that are choosing the team can get on with that."
Clayton is the latest leading Jersey sportsperson to pull out of the Gotland Games, following cyclist Kim Ashton and archer Lucy O'Sullivan.
In his two previous Island Games appearances, in Bermuda in 2013 and on home turf in 2015, he has picked up three gold medals and two silvers, but failed to win the singles title despite being top seed on both occasions.
His recent form has raised hopes of Wimbledon qualification, with last week's triumph in the Aegon GB Pro Series event in Barnstaple extending his unbeaten run in doubles to 25 matches.
"I've played in the last two Island Games and I've really enjoyed myself," he told BBC Radio Jersey.
"It's going to be a shame to miss it, but I've got a good opportunity in the summer to play in Britain and hopefully do well and carry on the form that I've been having."
The Island Games will run from 24-30 June, with the 2017 Wimbledon Championships scheduled for 3-16 July.