Channel Island tennis can win more promotions, says captain
Last updated on .From the section Tennis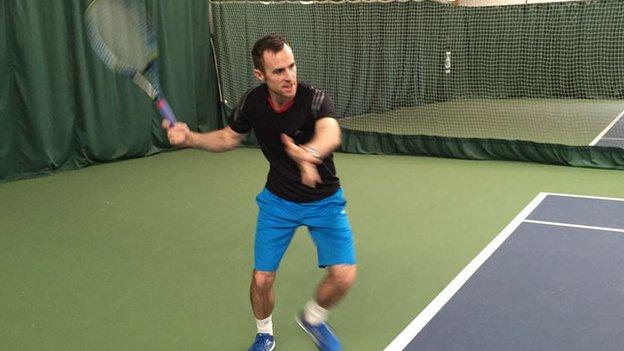 The Channel Islands are capable of further promotions in the British Winter County Cup after going up to Division Four in the annual event, says team captain Rob West.
Wins over Bedfordshire, Gloucestershire and Northamptonshire saw the islanders reach their highest-ever level.
"If we have our strongest team, looking at other counties we know, we could go up again - if not twice," West said.
"It's just getting that really strong core of players together."
Channel Islands road to promotion
Beat Bedfordshire 5-4
Beat Gloucestershire 7-2
Best Northamptonshire 5-3
The Channel Island team were missing their top-ranked player, Scott Clayton, who won Island Games silver this summer, and Island Games bronze medallist Stuart Parker.
"We've yo-yoed between Division Six and Five before and every time we've gone up to Division Five we've gone straight back down again," West told BBC Radio Guernsey.
"To get back-to-back promotions and be up in Division Four, the highest we've ever been, is really great."