Petra Kvitova: Fighting jet lag and finding motivation at WTA Finals
Last updated on .From the section Tennis

I arrived in Singapore on Tuesday night and I'm hoping the jet lag will be gone by Monday when I step on court for my first match at this year's WTA Finals.
I've spent the last two months chasing the points I needed to qualify as one of the top eight players in the world, travelling from New York to Europe to China and now Singapore, and it feels great to have finally made it.
I'm not feeling too bad and I certainly hope to do better than last year, when I lost two of my three round-robin matches. Reaching the Finals is one of my goals every year and I know what it feels like to end the season on a high after winning on my debut in 2011.
There is not much time to rest when you arrive at the season finale, with all sorts of commitments off court as well as the need to practise, but fortunately I'm the sort of person who likes like to keep busy.
Let's just hope that the jet lag wears off after three or four days!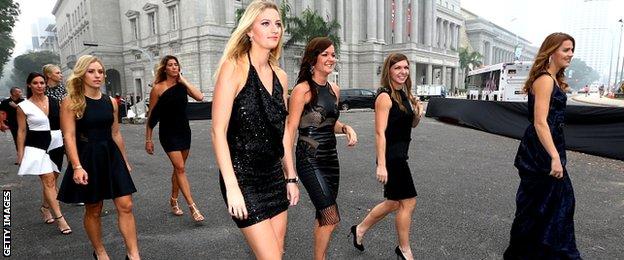 'Playing without motivation is tough'
I'm especially happy to be here playing the WTA Finals after taking the most time off during a season that I think I ever have.
I took a month out earlier in the year, something I never really did before, so it was kind of a new experience but showed me that I can still come back, play well and stay in the top five. That's great.
Winning three Premier titles along the way was amazing, as well as beating Serena Williams in Madrid, although of course I wanted to have some better results in the Grand Slams.
But I think you can always take something good from the bad things, so that's what I'm trying to do, and I still have my motivation. I'm really happy to be here competing as one of the top eight.
WTA Finals groups

Red Group
White Group

Simona Halep (Romania, rank 2)

Garbine Muguruza (Spain, 4)

Maria Sharapova (Russia, 3)

Petra Kvitova (Czech Republic, 5)

Agnieszka Radwanksa (Poland, 6)

Angelique Kerber (Germany, 7)

Flavia Pennetta (Italy, 8)

Lucie Safarova (Czech Republic, 9)
This already feels like it has been a special season, but with the Fed Cup final against Russia to follow Singapore it could be a really great end to the year.
It won't quite match up to Serena's season, even though she won't be playing in Singapore. I think she was very disappointed when she lost at the US Open, just two wins from completing the calendar Grand Slam, and it was then tough to find the motivation to play the end of the season.
Playing just because she has to is not really her way of playing. Playing without motivation is tough even for her, but I think what she did this year is great.
'I'm not a fan of airplane food'
I have been on some very long flights over the last two months, heading back from the US Open to Europe, then returning from China for a break in the Czech Republic before coming here to Singapore.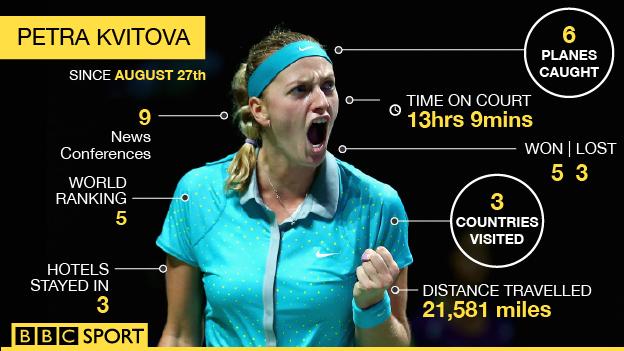 It can be tricky to cope with this kind of schedule, which means many, many hours in the air, but I'm lucky that I have no problem sleeping on a plane!
When you fly as much as I do, you get into a pretty familiar routine. I don't do any exercises when flying but use compression socks, and spend as much time as possible lying down. I try not to eat much - I'm not a fan of airplane food, everything is just so weird.
I always take my book, my MP3, my phone and my computer. I like to watch movies - I just saw the documentary about Amy Winehouse, which was very good and emotional.
The other thing I always try to travel with by my side is my racquet bag. It's kind of big and sometimes I have a bit of trouble with that, but usually I can persuade them to let it on!
'I hit once a day and really give everything'
Unfortunately I lost early in Beijing and then couldn't go to Moscow as planned, but it did give me a few extra days off to rest and recover, and then I had a really good practice in the Czech Republic.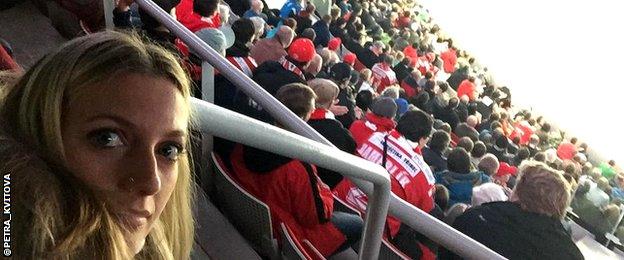 I think maybe Aga Radwanska, Maria Sharapova and Simona Halep arrived in Singapore before me. With only eight singles players at the tournament sometimes it can be more difficult to arrange practice but we are lucky with the players here this year and before the draw is made it's a little bit easier.
We have the coaches to hit with as well but before the matches I think it's just time to play some points and get the final touches from the coaches.
There is always a lot of work going on behind the scenes at a tournament and that's even more true at the WTA Finals, where we have many activities during the day and you really have to set everything up.
It is for sure a big part of the coach's job to make sure the tennis does not get neglected. I don't think you can do much great practice here so we are trying to hit once a day and really give everything to the session, then we have the other commitments.
I'm happy how we've arranged everything and even though it's still been a really long season for me, I feel OK now and ready for a challenging few weeks.
Petra Kvitova was talking to BBC Sport's Piers Newbery