Sania Mirza: Can India's doubles star inspire a new generation?

By Ankur Desai
BBC Asian Network
Last updated on .From the section Tennis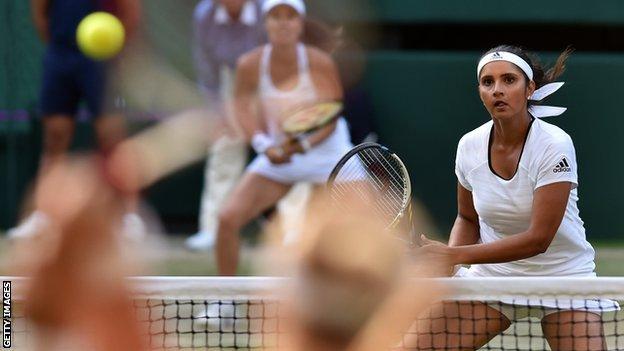 She is one half of a Posh-and-Becks-style marriage, has almost three million followers on Twitter, and is arguably India's biggest female sports star.
But in a country where the population is more than a billion and cricket is king, even Sania Mirza's success is not guaranteed to inspire a generation of women to get involved in sport.
The 28-year-old from Hyderabad is ranked world number one in doubles and enters the US Open fresh from winning the women's title at Wimbledon with Martina Hingis.
Wife of Pakistan cricketer Shoaib Malik - a high-profile relationship that makes tabloid headlines in South Asia - Mirza is used to taking pressure in her stride.
But with an academy set up in her home city, can she help unearth Grand Slam stars of the future - and why are Indian players excelling at doubles but struggling in singles?
Who is Sania Mirza?
Not someone who was destined to reach the pinnacle of the doubles game, according to a former coach.
"I thought she would maybe be a top-100 player in singles but I never thought she would play doubles - she had awful volleys," says Krishna Bhupathi, father of Indian doubles specialist Mahesh, and Mirza's mentor as a teenager.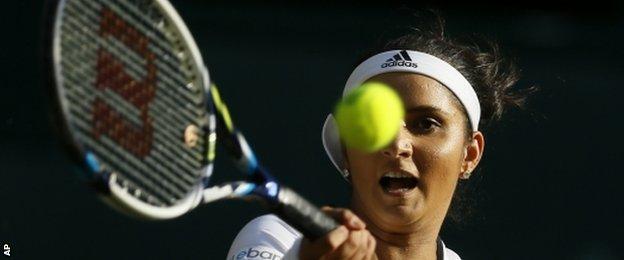 Tennis was initially a hobby during summer holidays but became more of a focus after the teenager began to win adult tournaments, culminating in her first senior title aged 15 at the 2002 Asian Games - a mixed-doubles bronze alongside Indian legend Leander Paes.
Mirza entered the WTA Tour in 2003 and reached a career-high singles ranking of 27 in the world, still the highest achieved by an Indian woman.
Her best Grand Slam performance came at the US Open in 2005, where she reached the fourth round, but a nagging wrist injury forced Mirza to reset her goals and she decided to focus on a career in doubles.
Marriage and success
Mirza has received plenty of attention away from tennis in part because of her marriage to former Pakistan captain Shoaib, and she is a regular at glamorous Bollywood award ceremonies, as well as modelling for fashion designers.
She has more than 2.8 million followers on social media and regularly posts online videos with her husband and other celebrities.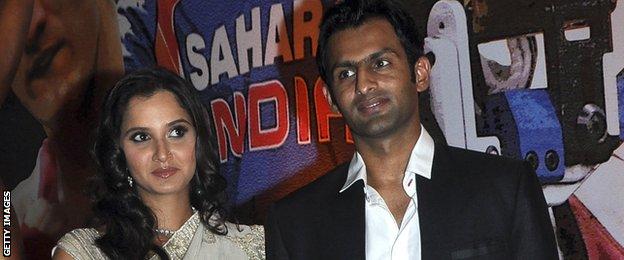 On the court, the past six months have been the most memorable of her career. Within a matter of weeks, Mirza moved to the top of the doubles world rankings and forged a successful partnership with former singles number one Martina Hingis, leading to tour wins and culminating in July's success at Wimbledon - the first Indian woman to win a title at SW19.
With Paes also teaming up with Hingis to win the mixed title and teenager Sumit Nagal winning the boys doubles, South Asia's largest country enjoyed a memorable Wimbledon fortnight.
Singles drought
Despite doubles success, however, the quest to unearth an Indian singles player of note continues.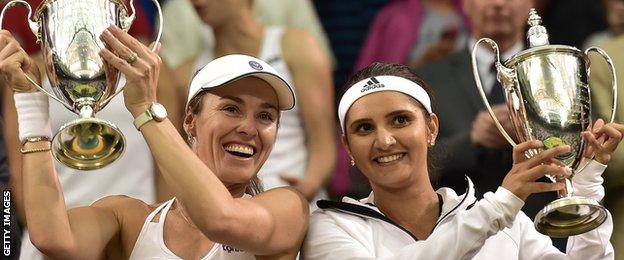 Bhupathi, who worked with Mirza when she was a teenager, pinpoints a lack of physical development at a junior level. "A child brought up in Europe starts playing sport from the age of three and four, whereas in India it's about seven or eight - so they are already behind," he explains.
"Indian players are good at using their brain to compensate for their lack of brawn, but it's not enough in singles - and that's why I don't foresee an Indian player being able to match, say, a Novak Djokovic over five sets at that level of intensity and endurance."
New breed
If she is unusual in tennis, Mirza is not alone as an Indian woman achieving prominence in sport.
Badminton star Saina Nehwal is top of the world rankings in singles, while boxer Mary Kom is a five-time World Amateur Champion and a bronze medallist from the 2012 London Olympics.
But Prajwel Hegde, tennis editor at the Times of India, believes Mirza's recent feats are potentially huge for women's sport in the country.
"She has made not just a statement for herself but for the youth of India," he says. "They don't fit into any bracket or follow rules or lines. They do what they want and try to be the best they can be, which is what Sania has done, and it's a great story for Indian sport."
What next for Mirza and Indian tennis?
Mirza sits on top of the world and teams up again with Hingis at the US Open in Flushing Meadows this week.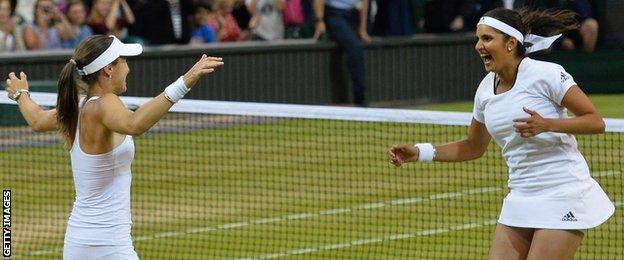 But it is the impact she is having back at home that excites many.
Mirza has set up an academy in Hyderabad, where a lot of the top players in India train.
"She is the ideal role model and hangs out with the girls and helps the next generation coming through," adds Hegde.
"For them to look up to Sania, someone who won Wimbledon with a partner the calibre of Martina Hingis, it's a huge label for Indian tennis."
Tennis or cricket?
Despite the accomplishments of Mirza, and her profile in the country, tennis is in no danger of eclipsing cricket in the nation's consciousness.
"How do you get more Indian kids to play tennis over cricket? You don't," says Bhupathi. "We don't have public courts. Cricket you can play in any old back alley."
It is hardly a set-up likely to nurture the next generation - the likes of 17-year-old Nagal.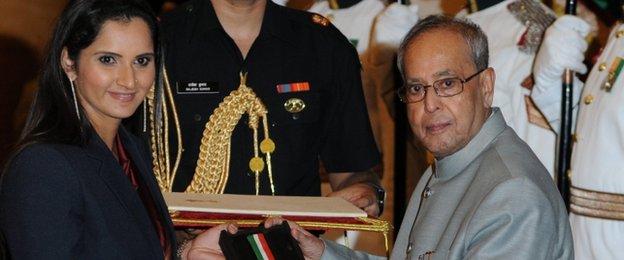 Mirza herself remains optimistic.
"It humbles me and gives me a great sense of pride and I hope this shows that women's sport in India can have Grand Slam champions in a global sport like tennis."