Bernard Tomic refuses Tennis Australia meeting invitation
Last updated on .From the section Tennis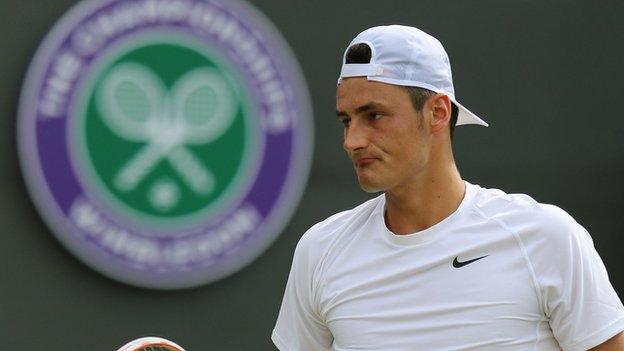 Bernard Tomic does not intend to accept the offer of "clear the air" talks with Tennis Australia until his sister Sara's funding is reinstated.
He said he did not believe there was any point in a meeting "until I am satisfied TA is committed to funding the development of junior Australian talent, including my sister Sara, on a non-discriminatory basis".
Tomic, who was arrested in Miami recently after an incident at a hotel, has a difficult relationship with Australian tennis' governing body.
TA withdrew funding from Tomic and his 17-year-old sister in June amid a dispute with their father John.
Australia play Great Britain in the semi-finals in September and TA president Steve Healy wanted to set up a meeting to "address" issues with Tomic and then "welcome him back into the Davis Cup".
And, while Tomic may not be keen on any talks, he insists he is available to play against Britain.
"I am always ready, willing and able to play for Australia," he told the Herald Sun newspaper from Colombia, where he is competing at the Claro Open.
He is through to the last eight of that tournament after beating Adrian Menendez-Maceiras.
Tomic added: "It is my honour and privilege to do so. I consider that I have a good record and it is my hope to continue to represent my country.
"Importantly, I would like to thank previous TA administrators for their financial support in the past. Current TA administrators sacked me from the Davis Cup for comments I made at Wimbledon. I stand by those comments.
"Contrary to some self-serving reports, I am OK and strong. I have not hit rock bottom. Thank you for your continued support. I know I need to work harder."