Bernard Tomic gets 'Hall of Shame' apology from Tennis Australia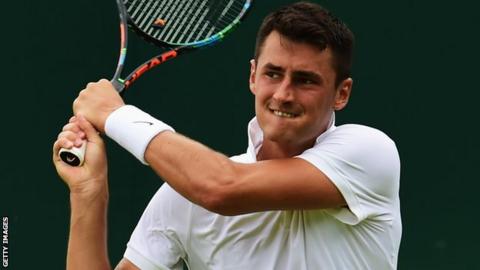 Tennis Australia (TA) has apologised for saying Bernard Tomic was playing in a 'Hall of Shame' match.
The phrase was used in a media release after he was dropped from the Davis Cup team for criticising TA.
The governing body said it "sincerely apologises for the typo", blamed "a simple clerical error" and claimed "there was no malicious intent".
The match in question involved Tomic playing John-Patrick Smith in the Hall of Fame championships in Newport, USA.
The 22-year-old, Australia's highest-ranked player at 25, went on to lose 6-3 7-5 to his compatriot and world number 156.
Tomic accused the governing body of abandoning him after he had hip surgery last year and was also critical of former world number one Pat Rafter, Tennis Australia's director of player performance.
Rafter believes the rift between Tomic and Tennis Australia may never heal as he told an Australian newspaper the national tennis body's focus was developing players "we can be proud of".