Wimbledon 2015: Andy Roddick on Murray v Federer semi-final
By Chris Bevan
BBC Sport at Wimbledon
Last updated on .From the section Tennis86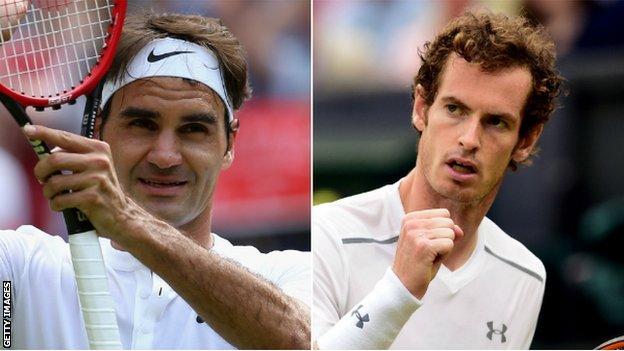 Wimbledon 2015: Andy Murray v Roger Federer
Date: Friday 10 July
Play:
Second match on Centre Court. Play expected at approximately 15:30 BST
BBC coverage:
Live on BBC Two from 12:30 BST, BBC One from 13:45, BBC Radio 5 live from 13:00 and BBC Sport website and app from 11:00.
The world will be watching Friday's mouth-watering Wimbledon semi-final between home hope Andy Murray and seven-time champion Roger Federer.
The clash - second on Centre Court and live across the BBC - is a repeat of the 2012 final, which Federer won for the most recent of his seven titles at SW19, and the final of the London Olympics that saw Murray strike gold later the same year.
But who will win this time?
BBC Sport analyst Andy Roddick, the former world number one and three times a Wimbledon runner-up to Federer, explains where he thinks Friday's match will be won and lost.
Form, familiarity… and variation
This is a fascinating match-up, with Federer serving as well as he is, and Murray's ability to break.
They have played each other 23 times and their head-to-head record is very close, so they know each other extremely well and they also have two of the highest IQs in the game.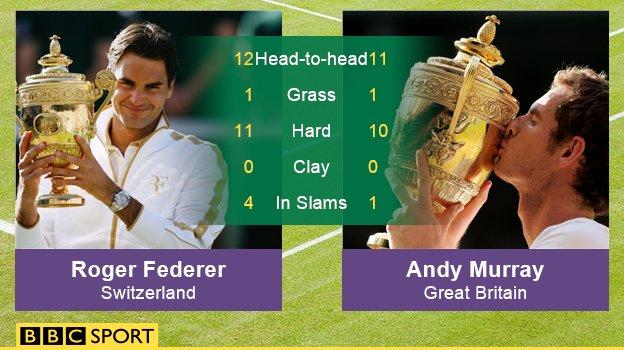 They will know what has been successful in their wins and what hasn't worked in their defeats.
What makes it such a great rivalry is that they both have all the shots - they can both mix up the pace of their shots and come into the net if they need to.
Why Murray should avoid all-out attack
I honestly do not think either player is going to come up with some kind of crazy new strategy that we have never seen before.
Federer is probably a bit more aggressive, while Murray is more likely to stay back and let the action come to him. It is probably 65-35 or 60-40 in terms of Federer attacking and Murray not.
I have heard people say that Andy needs to be more proactive in rallies, but I am not sure that is the case.
With most players, when people talk about that, they mean them trying to hit more winners or coming forward more but it is not quite as simple as that.
For Andy, firming up his crosscourt forehand rather than looping it probably won him the Wimbledon title in 2013 because he was able to keep Novak Djokovic at bay.
That is what being proactive means for him, not wildly changing everything that works in his game in a desperation move.
Stopping Federer from finding his rhythm
When I see Murray firming up his forehand and staying away from those high looping balls, I know he is confident.
He has been able to firm it up for the entire fortnight so far, and he needs to keep doing that against Federer.
One of the big things that allows Roger to do well is when he can keep hitting that chipped shot of his and nobody attacks it.
If Federer is allowed to get away with that, like he has done all tournament, it makes him very comfortable. He can switch the direction of shots more easily and dictate play.
In the past, I have seen Rafael Nadal take that chip and really dominate it. Novak Djokovic has done the same thing too and, however he does it, it is important for Andy to stop Roger from establishing any rhythm.
Is Murray's second serve a weakness?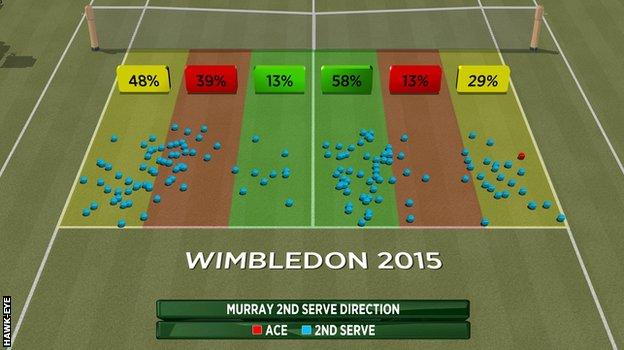 Murray's second serve can get a little tight and go a little short in the service box and Roger is one of the guys who can take advantage with his return.
Murray will put most of them to Federer's left but Roger can either come into the net off his backhand or he can run around it and hit forehands off it, and he will not be scared to go on the attack and commit to hitting them early.
Even if Murray hits a good second serve, Federer can adjust and then chip it back, and still be neutral in the point. What Roger does with it will be something to watch out for.
Why is Fed's slow serve still a strength?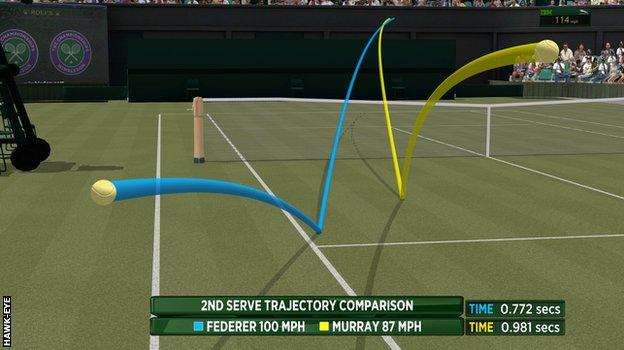 Like Murray, Federer's serve is not the biggest. It is so effective because he is able to mix up his toss as well as being able to put his serve in the corners of the box.
When I played Andre Agassi, he was great at doing that too. It causes a bit of confusion when you are trying to read him.
Federer can toss it right and hit it flatter or he can throw it behind his head and hit a top-spin serve. He mixes up short serves that kick up and slice serves that fade away from you, and it is very hard to know what is coming.
Roger's serving numbers at Wimbledon have been excellent, and that shows what kind of form he is in. Before he was broken in his quarter-final with Gilles Simon, he had held serve in 116 straight games which is just ridiculous.
At the end of that match, the success rate of his first serve was 73%. He will not lose on grass to anyone when he has a percentage like that.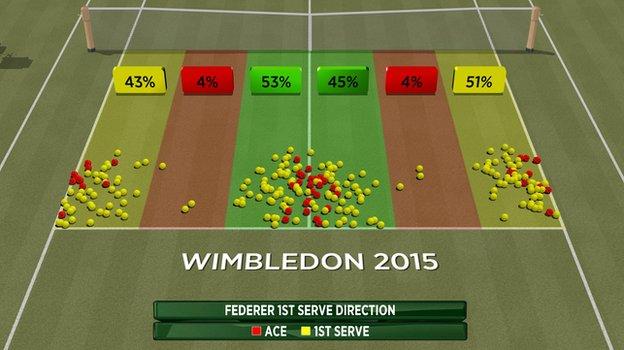 Will the crowd play a part?
This is Federer's 10th Wimbledon semi-final, and Murray's sixth.
Despite their experience, in such a big match there will still be pressure for both players, and Murray will probably have more nerves because he is playing at home.
It is usually different playing Andy here to anywhere else, but Roger is a lot more loved than any other player worldwide - he will split any crowd at any player's home venue and he deserves his status as an icon.
I don't know who the fans on Centre Court will support but, even if they are behind one player more than another, it won't affect the other guy.
These players are such pros - they have been here many times before. Whatever decides this match, it will not be how they deal with the crowd.
So, who will win?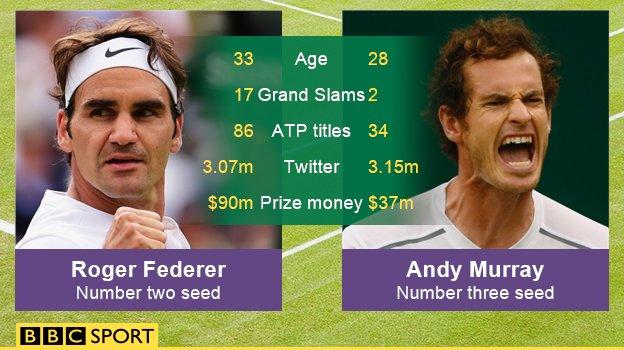 The important thing for both players will be to try to start quickly and try to get an edge with an early break.
At the start of matches, that can happen just by you getting your legs going sooner than your opponent rather than any successful tactics.
What will make a difference there is how aggressive Federer is early on.
Against Simon, he was content to chip the ball around and settle into rallies in the first set. He did not look rushed at all.
I am curious about whether he will come out and feel the match out like that again against Andy, or if he feels like he has to do something extra.
There have been times in the past couple of years where Federer has been almost too aggressive from the word go. He needs to get the balance right.
Beyond that, it will get a lot harder for both of them. Having one strategy won't be enough because both of these players are great at adjusting when things are not going their way.
So it is going to come down to whoever executes their game plan better on the day, and that is where the predicting game becomes tough.
I think it is too close to call. If anyone says with any measure of confidence that they truly believe one or the other will go out there and definitely win, they are probably not telling the truth.