Andy Murray column: Jinxing Jamie & reaching the last eight
Last updated on .From the section Tennis
Wimbledon 2015
Dates:
Until 12 July
Play:
11:30 BST on outside courts and 13:00 on Centre Court and Court One
BBC coverage:
Across TV, radio and online with up to 15 live streams available.
Read More:
TV and radio schedules.
It's not just the fans who feel the excitement of a big match at Wimbledon, the players will gather round to watch in the locker room too.
There will be lots of comments flying around, with everyone trying to be funny and saying things like 'It's break point, where are they going to serve? Double fault, anyone?'
Then everyone shouts out, 'Down the T' or 'Out wide!'
I usually leave them to it because obviously players have tendencies on bigger points, but someone will say 'I told you!' if they get it right on one point. You can guarantee that the next time they'll get it wrong because it's 50/50.
I've only been with him a few weeks but I can tell you already that my coach, Jonas Bjorkman, is a bad one for that.
I will check the app and follow the live scores during the day but I don't sit and watch a whole set; when I'm getting ready I'll just catch a few points here and there.
On Monday I only saw the end of the Berdych-Simon match, a few games of the Kyrgios match, a little bit of Roger and a couple of games of Novak.
If I was to play Novak or Kevin Anderson in the next round, I might take a bit of a closer look, but it's such a long way away from affecting me that at this stage I'm not following it closely.
Maybe later on in the tournament, if I was to play against one of them, I might make more of an effort to see how it's going.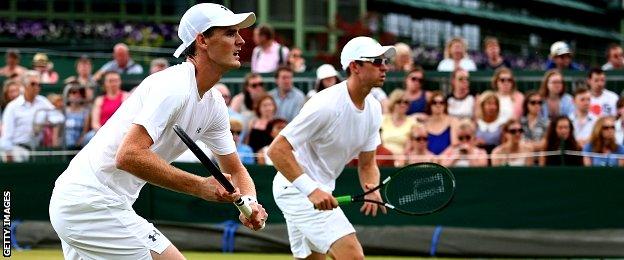 'I feel like when I watch Jamie, he loses'
One person I rarely watch on TV is my brother Jamie. I don't really like it. It's probably not the case but it feels as though when I watch him, he loses.
When he played the mixed doubles final here in 2007 I was just pacing around, away from Centre Court, checking the score from time to time. I only ran out for the last game when it looked like they might win.
I couldn't watch the end of his match on Monday evening because I was talking to the media, and it obviously worked for Jamie!
He and John Peers had a great win over Vasek Pospisil and Jack Sock, who have been a top, top doubles team since they teamed up and obviously won here last year.
It was even more impressive because they won it in the fifth after being two sets up - it's tough to dig them out. To win it 8-6 in the fifth, after winning their last match in five sets, is a good effort.
'I won't bank on Pospisil being tired'
Pospisil had a great win over Viktor Troicki in singles earlier in the day, which meant he played 10 sets on Monday.
I don't know if that will affect him when we play on Wednesday but, selfishly, I hope so. He's played a lot of tennis here with three five-setters.
The plus is that on grass the matches aren't as long - a five-setter in New York takes a bit more of a toll on your body than here - but Vasek has spent quite a lot of time on the court so far and that can be mentally draining.
He may also be a little bit fatigued, but then again he's played so much tennis that he's going to be comfortable in the conditions and in a good rhythm.
If he is tired I'll obviously try to capitalise on that, but I won't bank on it.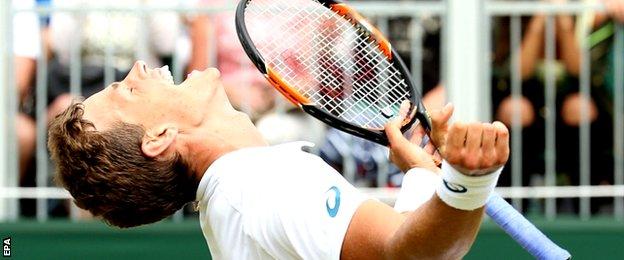 'Reaching the last eight is never routine'
I'm through to the quarter-finals at Wimbledon for the eighth year running, and that will never be something I take for granted.
It could never feel routine and I think it is something I'll look back on when I finish playing and be proud of, because it isn't an easy thing to do.
Just look at the opposition I've had to face over the years, like Ivo Karlovic for example. I've played him twice here and both times it's been extremely close.
There have been a number of matches when I've been in tough situations and managed to get through them. I'm proud of that record. I don't worry about it so much now but I will look back on it positively when I finish, I'm sure.
The support has also been great for the last week or so and it makes a big difference. Hopefully I'll be able to continue to give everyone something to shout about and I hope I can make people proud.
Thanks and see you on Wednesday.
Andy Murray was speaking to BBC Sport's Piers Newbery. You can follow Murray on Twitter,Facebook and Instagram.