Bernard Tomic dropped for Australia Davis Cup tie
Last updated on .From the section Tennis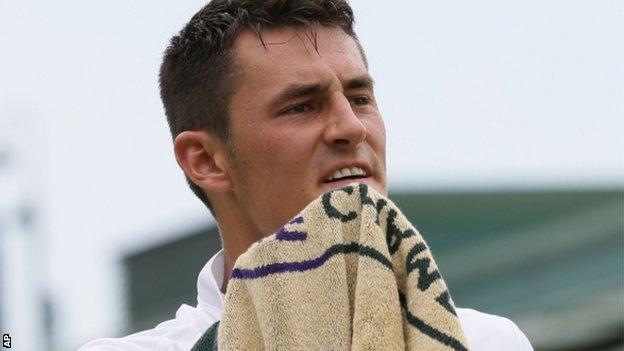 Tennis Australia says Bernard Tomic will not be chosen for their Davis Cup tie against Kazakhstan in Darwin later this month.
It comes after the 22-year-old accused the governing body of abandoning him after he had hip surgery last year.
Tomic, ranked 26th, was critical of former world number one Pat Rafter, Tennis Australia's director of player performance.
"His behaviour was unacceptable," said Tennis Australia president Steve Healy.
Tomic, who was knocked out of Wimbledon in the third round by Novak Djokovic on Friday, accused the Australian tennis authorities of penny-pinching, saying he was charged for practising at the Pat Rafter Arena in Brisbane, adding that things changed after his surgery.
"I didn't get one phone call from Tennis Australia, Can we help you, Bernard? Can we do this? Do you need something? You know, Can we give you something?" he said.
"What's going on? Where is the support? How can you do this? It's not about the money. It's about the respect."
Healy added: "Playing for our country is an absolute privilege, and with that privilege comes an obligation to behave appropriately. He didn't.
"The allegations are misinformed and untrue and he publicly derided some outstanding people. We are trying to build a strong culture underpinned by a philosophy of opportunity, not entitlement. This stuff is just not on."
Rafter had said that he would end funding for players in their 20s and that Tomic's sister Sara, 17, would also have her funding cut off because of the uncooperative attitude of their controversial father John.
In 2013, Tomic Sr was sentenced to eight months in prison for assaulting his son's training partner before a tournament.