Roger Federer beats Gael Monfils in French Open fourth round
Last updated on .From the section Tennis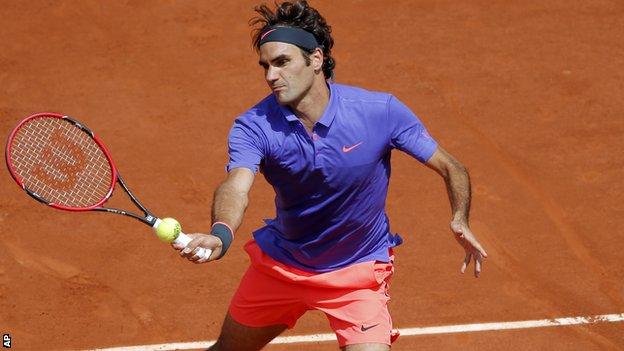 Roger Federer reached the French Open quarter-finals after completing a comfortable win over Gael Monfils.
The Swiss, 33, won 6-3 4-6 6-4 6-1 to set up a last-eight tie with compatriot and Davis Cup team-mate Stan Wawrinka.
"I'm pumped up to be in the quarter-finals again, said Federer after wrapping up victory on Monday.
The fourth-round match with Frenchman Monfils was suspended for bad light late on Sunday with the tie evenly poised at one set all.
But 2009 champion Federer needed only about an hour to finish off 13th seed Monfils.
"At this stage it's about progressing in the tournament," added Federer after securing an 11th Roland Garros quarter-final.
"What's important right now is that I am physically fresh for the back end of the tournament."
Swiss supremacy on the line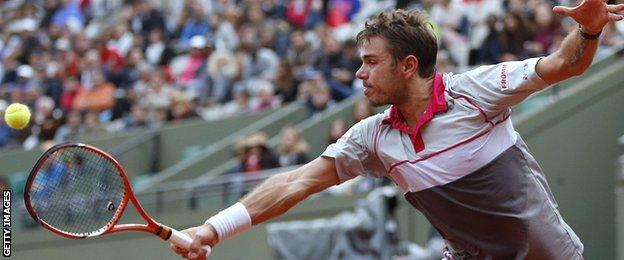 Roger Federer will play compatriot Stan Wawrinka for the 19th time on Tuesday, and the third at Roland Garros.
Federer, three years older at 33, leads their head-to-head a more-than-convincing 16-2 over 10 years.
"With two Swiss players, it's totally different from French, Spanish, and the Americans," said the 17-time Grand Slam champion.
"For us, it's always special to play each other. I'm quite positive about it. So there will be a Swiss guy in the semi-final.
"That's positive. I hope I will reach the semi-final of a tournament. I will pull out all the stops to advance to the next round. If I will not make it, I will be very happy for Stan."
Famous Belgian
Alison van Uytvanck had only won one Grand Slam match in six attempts before this year's French Open. Before arriving in Paris she has lost her previous three Tour-level matches.
The 21-year-old Belgian has less than 2,000 Twitter follows, compared to the 4.6m subscribing to top seed Serena Williams' feed.
But after her win over Romania's Andreea Mitu, the world number 93 is rubbing shoulder with the game's elite in the quarter-finals, where she could meet Wimbledon champion Petra Kvitova.
Britwatch
Junior Katie Swan made light work of a quick turnaround after a dramatic first-round win on Sunday.
The 16-year-old from Bristol, but based in Kansas, beat Canada's Katherine Sebov 7-5 7-5 to reach the third round.
Australian Open girls' finalist Swan admitted on Sunday that her experience of red clay amounted to "not a lot".
Her compatriot Emily Arbutnott beat Russian's Anastasia Gasanova 6-1 7-6 (7-3) in her first-round singles match.
Quotes of the day
"I'm realistic. I know there is a chance. At the same time, I know how hard it is." Roger Federer is daring to dream, momentarily, about a second French Open title.
"I need to better manage the weather, for example. Very often I'm playing with some shorts and a sweater, but that's not enough. So these are little details, little things of life that are important." Gael Monfils is implementing his own version of the marginal gains approach to sport.
"In terms of illness, I don't go out late. I know a lot of my friends that go out and party very late often wake up with sore throats the next day, and can get sick. You need to make sure you rest properly." Sound advice from Andy Murray.
"Sometimes after a little while he's in your head." Jeremy Chardy sums up the Andy Murray experience.
"I really don't care about this. I'll follow my path, my career. The press treats me really well. So, no, no, I have nothing to complain about. My life is not going to change tomorrow." David Ferrer on not being the centre of attention.
"She almost beat me, so no tea, no shade from me at all." Serena Williams refuses to criticise next opponent Sara Errani's famously underpowered serve. We think.
"You write what you want to write, you see what you want to see, and you definitely never know what's going on with the person. I love tennis. I love my job. The fire is always lit. spreading arms wide The flame is like this big.'' Sloane Stephens is dismissive of journalists who have questioned her commitment to the sport.
Selfie of the day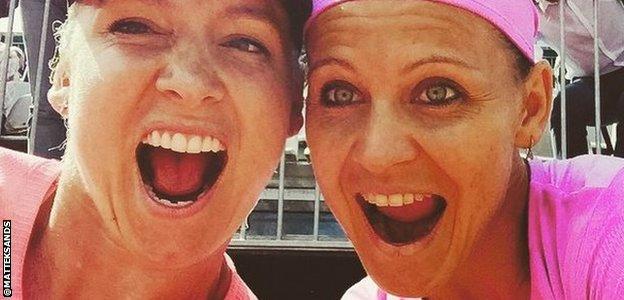 As well as beating Maria Sharapova to make the quarter-finals of the singles, Czech Lucie Safarova also progressed to the last eight of the womens' doubles.
Her success prompted partner Bethanie Mattek-Sands to write on Instagram that Safarova "wants to take all the Roland Garros prizemoney" and post a team shot.