Robin Soderling hopeful of 2016 comeback after five-year absence

By Russell Fuller
BBC tennis correspondent
Last updated on .From the section Tennis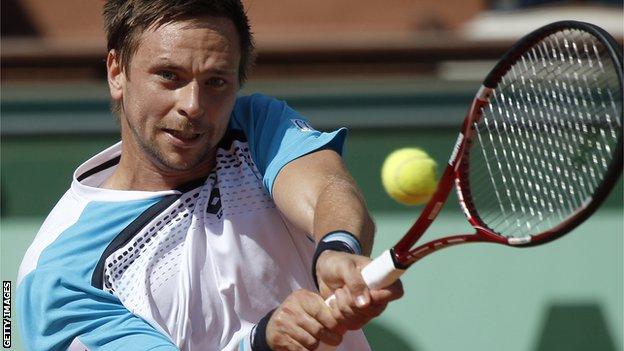 Robin Soderling - who remains the only man ever to have beaten Rafael Nadal at Roland Garros - is hoping he will be able to return to the ATP Tour in 2016.
The two-time French Open finalist has not played competitively since July 2011 because of severe glandular fever, but has told BBC Radio 5 live of his optimism he still has "some good years" ahead.
"I'm actually finally doing a lot better," says the 30-year-old Swede.
"I wouldn't say I'm 100%, but not very far from it, which is a great feeling."
He added: "Hopefully - if it continues to progress the way it has been - then maybe, it's tough to say, but maybe six months or a year from now I can hopefully start to train 100%.
"My goal was to play a long career and to play until I was way over 30. If I can become healthy, I still feel that I have some good years in me. Look at the way the players on the tour are performing now at a high age - that gives me a little bit of hope."
Soderling famously beat Nadal in four sets in the fourth round of the 2009 French Open and went on to finish as the runner-up to Roger Federer. He again reached the final in Paris 12 months later, where Nadal took the opportunity to exact his revenge.
The Swede says he started to develop a light fever and a sore throat during the 2011 Wimbledon Championships but rallied a couple of weeks later to beat David Ferrer in a final in Bastad, Sweden. That was the 10th title of a burgeoning career, and yet it remains his most recent appearance on the ATP Tour.
Soderling was just 26 at the time and admits to feeling bitter about the illness which has robbed him of arguably the best years of his career.
Soderling's Grand Slam highlights

Australian Open

Fourth round (2011)

French Open

Final (2009, 2010)

Wimbledon

Quarter-final (2010)

US Open

Quarter-final (2009, 2010)
"In the beginning I didn't think so much about it because I was feeling so bad: I had problems going from my bed to the bathroom," he said.
"But then after a while, as I started to feel physically better, it was tough of course mentally: all [manner of] thoughts started going through my head about maybe I cannot ever play tennis again. But I did some other stuff. I had a kid and I learnt that tennis is a big part of my life but it's not my whole life as I thought it was before."
"Other stuff" includes setting up RS Tennis, a company that sells tennis products, and spending almost a year trying to develop the perfect tennis ball. Soderling's creation - which he says is light yet durable and offers plenty of control - will be used at this year's Stockholm Open, where the Swede is now in his second year as tournament director.
That role has really opened his eyes to life on the other side of the fence. He is now having to negotiate appearance fees with players' agents, some of whom are "very nice and easy to talk to - but some are totally the opposite".
And if Soderling does return to the tour in 2016, we should expect to see a man whose illness has given him a different perspective on professional life.
"Sometimes I wish I had been a little bit more humble as a player, because sometimes you could complain about really small things like there's no water on the court."
Paul Farrell, professor of tumour virology at Imperial College London
"The symptoms of glandular fever are caused by the immune response to the Epstein-Barr virus, which tends to be more severe after adolescence.
"Incidences may be slightly higher in tennis players because of the demographics of the players themselves.
"In developing countries, it is unknown because almost everyone gets infected in childhood.
"It is only in Western families with higher hygiene standards where people stay uninfected all the way through childhood.
"It could be that tennis players tend to come from a higher social class demographic than sportspeople in other sports
"It may also be possible that tennis players' stressful lifestyles affect their immunology.
"Travelling extensively in itself should not make someone more susceptible to glandular fever.
"It is known as the 'kissing disease' because it is transferred via saliva and requires that level of exposure to spread.
"Also 90% of the population carry the virus anyway, so you would not need to travel anywhere particular exotic to be exposed to it."