Andy Murray's French Open bid gets pilates boost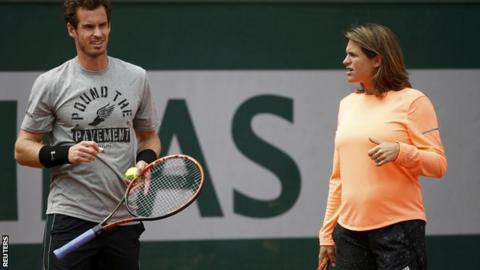 French Open
Venue: Roland Garros, Paris Dates: 24 May - 7 June
Coverage: Live text and BBC Radio 5 live sports extra commentaries on every Andy Murray match and other key games
Twelve months ago, at 21:40 BST on the first Saturday evening of the French Open, Andy Murray's third-round match with Philipp Kohlschreiber was suspended due to darkness at 7-7 in the final set.
Murray had been a break of serve up in all five of the sets they played, but needed a total of four hours and seven minutes to close out the decider 12-10 early on Sunday afternoon.
There was a similar tale when Murray met Gael Monfils in the quarter-final. A two-set lead evaporated very quickly and he was forced to play a brilliant final set to wrap up victory as the sun was setting behind the Philippe Chatrier court.
The rout that followed in the semi-final should have come as little surprise. Murray won only 10 points on Rafael Nadal's serve as he was beaten 6-3 6-2 6-1 in what he described as a "bad, bad day". He blamed himself for not finishing his earlier matches off more quickly, something which he has done much more efficiently this year in a hugely encouraging clay-court campaign.
Murray has won all 10 of the matches he has contested on the surface this year. In Madrid, where he beat Milos Raonic, Kei Nishikori and Nadal to win the title, he dropped only one set and did not once have to resort to a tie-break.
He rightly points out that winning at Roland Garros would be a "very, very difficult thing to do," but there is no doubt he is playing the best clay-court tennis of his life.
Murray is very likely to have to beat either Novak Djokovic or Nadal just to reach the final, but he is playing extremely well as the triumph in Madrid and his run to the final of the Australian Open and the Miami Masters prove.
His coach Amelie Mauresmo, who is expecting her first child in August and could conceivably be preparing for her final Grand Slam with Murray (she is unsure whether she will be able to join the team at Wimbledon, and open minded about her long-term future), deflects any credit towards the world number three.
"I think he is the one who should be proud of himself because the amount of work he's putting into his tennis, and in achieving his goals, is huge," she told BBC Sport.
"His game is coming together really well and I think the confidence that he's been building since the beginning of the year is also one explanation for him feeling good on clay so far."
And there is one other crucial difference this year: Murray's reconfigured back is no longer hampering him.
Andy Murray's potential route to the final
Round one: Facundo Arguello (Argentina, ranking 139)
Round two: Vasek Pospisil (Canada, ranking 51)
Round three: Nick Kyrgios (Australia, seeding 29)
Round four: John Isner (US, seeding 16)
Quarter-final: David Ferrer (Spain, seeding 7)
Semi-final: Novak Djokovic (Serbia, seeding 1) / Rafael Nadal (Spain, seeding 6)
Final: Roger Federer (Switzerland, seeding 2)
Even last year - eight months after surgery - his back was not as strong and as supple as it needed to be for clay, a slower surface which requires the body to generate a lot of torque to power the ball.
Murray was able to enjoy a very profitable training block in Barcelona, which proved perfect preparation for the back-to-back titles he won in Munich and Madrid.
"I had a gyrotonics - a pilates - teacher come over from America," Murray told me at the Rome Masters earlier this month.
"She came over to Barcelona so I did a lot more work on my movement and my range of motion in my body. I feel physically much healthier with my back than I did at this time last year. It's not just that - my tennis has been good as well - but it's been a big, big factor for me."
With the exception of his 2010 US Open defeat by Stan Wawrinka, Murray has not lost to a player from outside the top 20 in a Grand Slam since turning 21. Nick Kyrgios could test that proud record if they meet in the third round, and both John Isner and David Ferrer - who has won all four of their meetings on clay - may be challenging second week opponents.
But if Murray is to reach a maiden Roland Garros final, he is very likely to have to deny Nadal a 10th title or Djokovic a first. If the players live up to their seedings, then Murray will face whomever emerges victorious from a quarter-final between the world number one Serb and Nadal.
In the final in Madrid, Murray exposed Nadal's brittle confidence when confronted by the very best. But should the nine-time champion make it through to the semi-finals this year, then he is likely to be a frightening proposition on a court where he can make the ball rear up above shoulder height, and on which he has so much space to defend.
Djokovic must still be the favourite, though. In 2015 alone, he has won all four Masters Series events he has contested - not to mention the Australian Open. His current streak of victories stretches to 22, and he has not lost a match at Masters or Grand Slam level since October of last year.
His desperation to win at Roland Garros and complete the career Grand Slam may have hindered him in the past, though, and an early meeting with Nadal may not be in the best interests of either player.
There is no sense of inevitability this year about the destination of La Coupe Des Mousquetaires.