Andy Murray: 'No issues' with Djokovic in bid to break barren run

By Russell Fuller
BBC tennis correspondent
Last updated on .From the section Tennis
On the eve of their first meeting since January's heated Australian Open final, Andy Murray has told BBC Sport that he has "absolutely no issues at all" with Novak Djokovic.
The pair will face each other in Saturday's semi-finals in Indian Wells, with Murray looking to arrest a run of five consecutive defeats by the world number one.
Murray's coach Amelie Mauresmo, meanwhile, says she does not think the world number four has developed a mental block in matches against the Serb and that he is in a "good place" heading into their 25th career meeting.
No explanation required
Murray was quick to blame himself for losing his composure when a break up in the third set of the Australian Open final - although he made it clear during the match that he felt Djokovic was exaggerating how tired he felt at the end of a gruelling second set.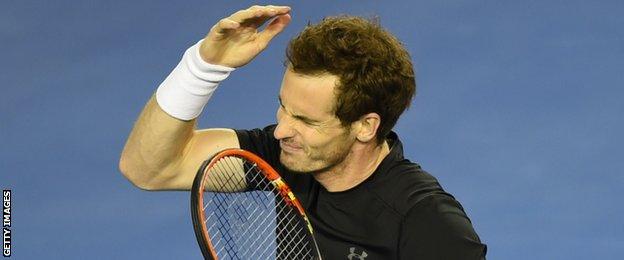 In an interview after his straight-sets quarter-final victory over Feliciano Lopez, Murray said the world number one does not have any explaining to do.
"I've seen Novak a few times since and I have absolutely no issues with Novak at all. Me saying I was distracted turned into this massive thing that me and Novak had some issue with each other, which is certainly not the case, and we never have in the 15 years that we've known each other. That was done in my eyes after the final."
Ending a barren run
Murray has twice beaten Djokovic in a Grand Slam final, but the last five matches have all gone against him. Murray says he is continuing to do "some mental exercises", but does not give the impression of a man who has been seriously questioning his approach to the sport's most high-profile occasions.
A potentially winning position slipped through his fingers in a matter of minutes in Melbourne, but his coach Amelie Mauresmo doesn't believe Murray has developed a mental block in matches against Djokovic.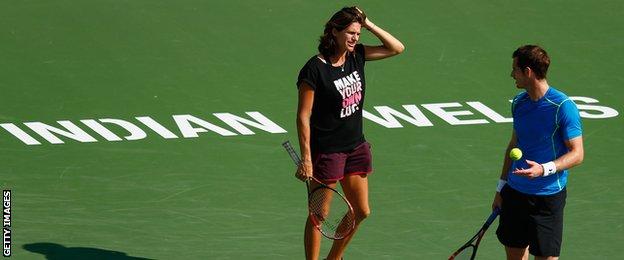 "I don't think so, or if it is the case, I think he can really turn things around," she said.
"I think he's in a good place right now, playing some good tennis and I think he's over the final in Australia, which was probably very difficult for him to digest. At that moment it was something that he was not able to do."
Consistency is the key
Saturday's semi-final in Indian Wells will be Murray's first appearance in the last four of a Masters Series event since he won the title in Miami two years ago. His form in Rotterdam and Dubai in February was nothing special, but in the first Grand Slam and first Masters event of the year, the omens have been very encouraging.
And Mauresmo is a firm believer that year-round consistency will pay dividends in the tournaments that Murray treasures most.
"If you want to win the Grand Slams, you also have to beat the top players outside of the Grand Slams," she continued.
"It's what I'm looking forward to, and what he's also more aware of now. I think if he can keep his level throughout the whole year, it's more likely that he may be able to peak even more at the Grand Slams."
The arrival of Jonas Bjorkman
Another challenge for Mauresmo will be working alongside Jonas Bjorkman. The Swede is expected to join the coaching team, although the trial week he has agreed to spend with Murray may not take place for over a month as he is considered one of the favourites for the Let's Dance TV show - Sweden's version of Strictly Come Dancing - which still has five weeks to run.
Mauresmo says she doesn't know the former Wimbledon semi-finalist very well, but is confident they can make a successful team - by doing things their own way.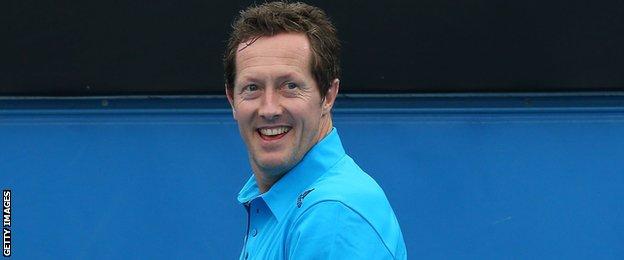 "The most important thing is that we see the same things in how to develop Andy's game and how he should keep improving. The most important thing is not about who is boss or not, but that we are on the same page on Andy's game. I think it's good for Andy that we don't say exactly the same things, as long as at the end, the idea is the same."
Split loyalties in the Davis Cup
Mauresmo spoke with great enthusiasm about the challenges ahead, but a broad and rueful smile played across her face when I asked whether she was looking forward to France playing Great Britain in the Davis Cup quarter-final in July.
"Not really," she admitted.
"The French are already making quite a lot of fun of me. It's going to be a tricky one for me - I'm going to be far away for this one and definitely not in the UK."