Murray "right where he wants to be" - Wilander

By Kheredine Idessane
BBC Scotland in Indian Wells, California
Last updated on .From the section Tennis
Former ATP world number one Mats Wilander believes Andy Murray is "right where he wants to be" ahead of the Indian Wells Masters.
The Swede won seven major singles titles, and the Wimbledon doubles gong between 1982 and 1988.
"I think he (Murray) is right where he wants to be," he told BBC Scotland.
"Most probably he needs a tournament win to gain that little bit of extra confidence."
The 50-year-old added: "I think it's possible that he wins a major this year - he's going to win a couple of tournaments here and there, that's for sure."
Murray made the final of the Australian Open in February, citing a "mental lapse" as his downfall in a four-set loss to Novak Djokovic.
"I think the pressure's off a little bit now he's made the final of the Australian Open. Is he playing to win tournaments or is he playing to become a better tennis player?
"It's a balance he has to get right. He looks happy when he's playing, he's more at peace with himself on the court, he looks like he's enjoying it, and the way he constructs the points is more of the old Andy Murray - the one that didn't win Grand Slams, but was happier on the tennis court.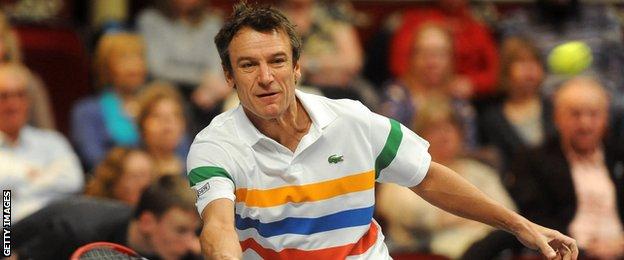 "The one thing missing is that he has to be even more level-headed than he is right now. I think he needs to get over the little things that bring him down.
"I think it's mental. I think he needs to get better at thinking and behaving like the great champion he is. Most of the time he does, but when you let up for just a couple of points against the best players, you're going to pay for it."
Murray echoed the Swede's sentiments, stating: "In terms of my game, I feel like it's back to where I'd like it to be. It still needs a few improvements here and there, but it's getting there.
"Indian Wells is a great event and they make great improvements to it every year - the facilities for the players are a joke, it's so good. That's why everyone loves coming back here, they get such good draws because they make it very easy for everyone and every year there's something new to the event."
Murray heads into the tournament after helping Great Britain to a 3-2 Davis Cup victory over the USA at Glasgow's Emirates Arena - a hard court surface. The British team will tackle France in the quarter-finals in July, with the venue, and the surface, which the hosts will select, now the subject of heated debate.
"You have to think about the surface and what gives us the best opportunity to win," said Murray.
"I would say that would be on a grass court, but also we need to find a venue that's appropriate for the size of the tie, because playing against France who are one of the leading tennis nations in the world, we want to play in front of a big crowd to promote the game and make it a big event.
"If we can't get a grass court venue which is appropriate for that, then maybe we look elsewhere, but I genuinely think the grass court gives us our best opportunity to win, and with it coming right after Wimbledon as well, changing surfaces is always tough on the body."