Australian Open: I would have 'slapped' twirl interviewer - Smith
Last updated on .From the section Tennis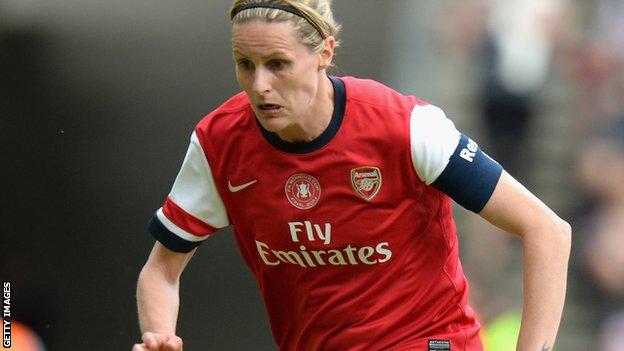 England striker Kelly Smith says she would have "slapped" the on-court interviewer who asked tennis player Eugenie Bouchard to twirl at the Australian Open.
Smith, who has won 117 caps, felt the request was "arrogance or stupidity".
The 36-year-old Arsenal player said: "If I was [asked], I would probably have slapped him around the face."
Smith said the episode - dubbed 'twirl-gate' - was "an insult to women's sport".
She added: "It shows there still is that ignorance when it comes to women's sport and that transfers to kids today - people think it is still OK to say things like that."
Twelve-time Grand Slam singles champion Billie Jean King led the criticism after Canadian Bouchard and American Serena Williams were both asked to show off their outfits after winning their second round matches last week.
King said the request was "truly sexist".
Bouchard, 20, said she was fine with the request as long as male players were asked to "flex their muscles".
Smith, speaking at the launch of the Women's Sport Trust's #BeAGameChanger Awards, added: "The more we raise the profile of women's sport through awards such as these, the bigger the chance of knocking that behaviour and ignorance out of sport and society in general."