International Premier Tennis League - is it good for sport?

By Russell Fuller
BBC tennis correspondent
Last updated on .From the section Tennis81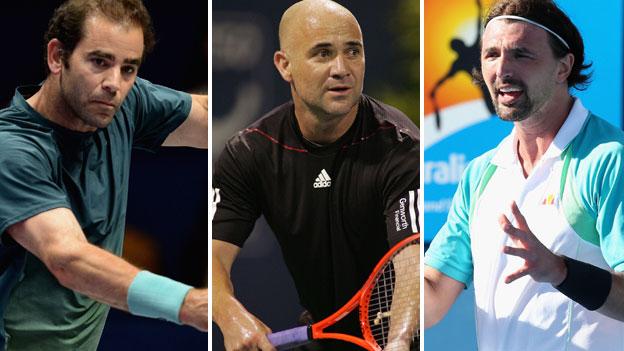 The International Premier Tennis League stages its world premiere in Manila on Friday. The format is innovative and the cast list impressive, but will it prove to be in the long-term interests of the sport?
First, some details. The Manila Mavericks, the Singapore Slammers, the Indian Aces and the UAE Royals are the four teams involved.
Serena Williams and Maria Sharapova have signed up, along with Roger Federer, Novak Djokovic, Andy Murray and some retired gentlemen with a bit of spare time on their hands.
Andre Agassi, Pete Sampras and Goran Ivanisevic are among the legends who will contest one of the five sets in each match. A men's singles, a women's singles, a men's doubles and a mixed doubles - in an order chosen by the home team - will complete the line up.
Sets are the first to six games, but when the score reaches 5-5, there will be a timed five-minute 'shootout,' which is scored like a tie-break but features a Shot Clock in case any player is tempted to waste time.
There is no advantage scoring (which means the player who wins the deuce point also wins the game), and as well as being able to request a 60-second time out, a player can also call a 'Power Point,' which doubles the worth of the very next point.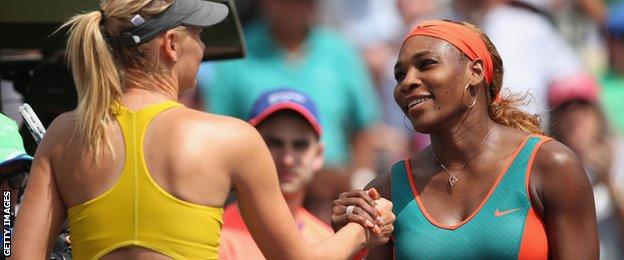 The quick-fire format, which is modelled on the successful annual World Team Tennis event in the US, will appeal to many: the five-set matches should not last any longer than an Indian Premier League cricket game (three hours).
Fewer of us now seem to have the time or the patience to sit through all five sets of a men's Grand Slam match, meaning innovative packaging is essential to attract a new generation of fans.
And as well as giving people the chance to watch on a screen - of whatever size - it is also vital that the best players in the world can be seen live in cities which they would normally pass by.
The IPTL will spend three days in both Delhi and Manila: the Philippines' only taste of professional tennis so far this year came when Benjamin Mitchell of Australia (who was then ranked 246 in the world) headlined the field for an ITF Futures event in March.
Many in Manila will not be able to afford the tickets: the cheapest three-day pass costs 2,900 pesos (the equivalent of £41 or US $65), and the city offers a daily minimum wage of just 429 pesos.
This is a charge levelled at many high-profile events, and the truth is that some players would not have agreed to fly halfway around the world at the end of a long season if the financial rewards were not as attractive as their agents are happy to confess they are.
International Premier Tennis League schedule in Philippines
28 Nov:
Micromax Indian Aces v DBS Singapore Slammers
28 Nov:
Manila Mavericks v UAE Royals
29 Nov:
UAE Royals v DBS Singapore Slammers
30 Nov:
UAE Royals v Micromax Indian Aces
30 Nov:
Manila Mavericks v DBS Singapore Slammers
The decision to play leaves some open to accusations of hypocrisy. Many male players, in particular, have complained for many years about the length of the season and the wear and tear on their bodies. So could the IPTL be a threat to the health and fitness of the players who make the ATP Tour such a success?
"I don't see it as a threat at all," the Tour's executive chairman Chris Kermode told me when I put that question to him directly.
"I think it's great that someone else is putting on tennis and taking it especially into new markets so I can only encourage that, but I think we just have to be very clear it is a series of exhibitions."
Britain's Murray flew out to Manila on Wednesday and will only feature in the first three days of the league, before heading out to Miami to begin his annual training block.
He did say, in the immediate aftermath of his heavy defeat to Federer at the World Tour Finals, that he might need to make some changes to his game in Florida.
Murray played seven tournaments in the last eight weeks of the season, so is sacrificing either some valuable rest or some vital training time by honouring his commitment to the IPTL.
Illness and injury gave Rafael Nadal and Victoria Azarenka little option other than to withdraw, but David Ferrer actively took the decision that his body would be better served by a period of rest.
And the US Open champion Marin Cilic says he only agreed to play because his coach Ivanisevic is also on the books of the UAE Royals.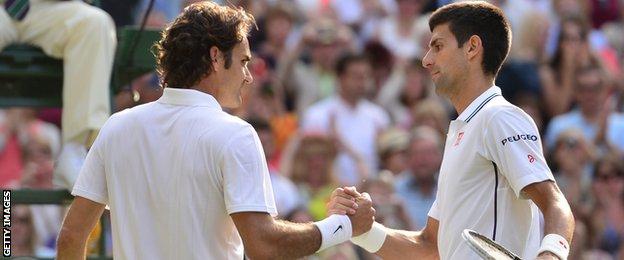 "If it wasn't like that, I wouldn't have played," he told BBC Sport.
"But I feel I'm still going to be able to train, to do our own thing, and of course the matches we are going to play are not that demanding. It's a one-set format so there won't be too much loss of energy and still I'm going to be able to focus on the things that I have to do."
It is notable that recent multiple Grand Slam champions such as Federer, Djokovic and Murray are only playing for a select few days: the workload of players like Jo-Wilfried Tsonga, Gael Monfils and Tomas Berdych will be far higher.
The league doesn't finish until 13 December, which is just three weeks before the start of the season and leaves little time for rest, recuperation and pre-season conditioning.
It may be more than a coincidence that Federer has had such a stellar season after opting out of a return trip to South America to play another series of exhibitions this time last year.
But I do not wish to finish on a negative. Like a language, a sport needs to evolve to remain relevant.
I am sure many will see tennis in a different light by the end of the IPTL's first season, as they get to watch previously distant figures in the flesh and discover the rules are not quite as they thought they were.